Home

»

Send flowers at a discount - Black Friday at Poczta Kwiatowa®! 15% discount on elegant flowers in a box.

Black Friday & weekend
Order from 23rd to 25th November
Only in Poczta Kwiatowa® -25% discount on black FlowerBoxes form Delimaro™! As a logged in user you only need to place an order in Black Week on 23-25 November 2018 with the following code black25- remember, you can choose any delivery date!
Black Friday is a day of opportunity. These are the moments when anyone can give this dream gift. No more constraints to give happiness and joy. Take advantage of it! Surprise Your loved one with black Flowerbox from Delimaro™.
Order now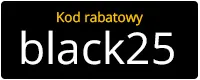 To take advantage of the discount, log on to www. pocztakwiatowa. pl. Code valid from 23. 11. 2018 to 25. 11. 2018. The offer is valid for Delimaro™ black flower boxes. Promotion is not combined with other promotions.
Payment methods







more