Może być biała lub czarna, mleczna lub gorzka, z dodatkami lub bez. Najczęściej występuje w kostkach, choć popularne są też wersje płynne. Ma wielu zwolenników. O czym mowa? Oczywiście o czekoladzie! Jesienne dni mogą wprawiać ludzi w zły nastrój, dlatego podczas takich chwil, warto sięgnąć po słodycze i poprawić sobie humor.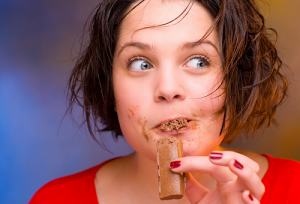 Wielu uważa, że smak czekolady potrafi nawet uzależnić. Przez wiele lat badano jej skład, chcąc sprawdzić, w czym tkwi jej tajemnicza siła. Okazało się jednak, że ten smakołyk nie jest odpowiedzialny za powstawanie nałogu. Mimo tego narodził się termin czekoladoholicy, który określa grupę ludzi, która uwielbia czekoladowe specjały i u których silne pragnienie ich spożycia pojawia się bardzo często. Tak naprawdę, każdy kto lubi tego typu słodkie przysmaki, może zyskać taki tytuł.
W składzie czekoladowych łakoci zawarta jest duża ilość magnezu, wapnia, miedzi oraz witamin: B2, B3, B6, B12, A oraz E. Jej wyborny smak wywołuje u ludzi uczucie radości - odpowiedzialny jest za to wzrost poziomu serotoniny i endorfin, czyli tak zwanych hormonów szczęścia. Dodatkowo przeciwdziała depresji i pomaga zwalczyć stres.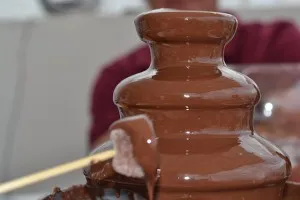 Jedzenie słodkich rarytasów powoduje zwiększenie ilości glukozy we krwi, przez co pobudza ludzi do działania i tym samym dodaje im energii. Dlatego też wskazane jest jej spożywanie przez osoby aktywnie uprawiające sport. Zawarte w niej przeciwutleniacze działają także korzystnie na serce. Kolejna korzystna właściwość czekolady to poprawa koncentracji. Należy jednak uważać z jej ilością. Zjedzenie 2 rzędów tabliczki rzeczywiście sprawi, że łatwiej będzie można się skupić, ale przekroczenie tej dawki spowoduje odwrotny skutek.
Niestety, ze względu na znajdującą się w wyrobach czekoladowych dużą ilość tłuszczu i cukru, zaleca się ograniczyć ich spożywanie, gdyż mogą powodować przybieranie na wadze. Dlatego należy zachować rozsądek i smakować je w małych porcjach. Najzdrowsza jest czekolada gorzka i nią warto się delektować. Jej pozytywny wpływ na zdrowie jest nawet potwierdzony naukowo. Zmniejsza ryzyko pojawienia się choroby Alzheimera oraz obniża ryzyko wystąpienia udarów mózgu.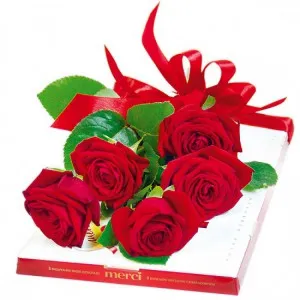 W jakich postaciach występują najczęściej te łakocie? Na rynku dostępnych jest wiele produktów czekoladowych. Najbardziej znane są tradycyjne tabliczki, ale popularne są też batoniki, bombonierki, cukierki oraz ciastka. Czekolada występuje też w wersji płynnej. Wiele osób, szczególnie zimą, lubi ją pić na gorąco z dodatkiem bitej śmietany, wanilii lub cynamonu. Na wyróżnienie zasługuje również czekoladowe fondue. Wystarczy zakupić specjalne naczynie-kociołek i można w domowym zaciszu cieszyć się niezwykłą smakowitą atrakcją - świeżymi owocami oblanymi ciepłą masą kakaową.
Najlepiej moc niezwykłych afrodyzjaków, jakim bez wątpienia są czekoladowe słodkości, opisują słowa autorki wielu książek kucharskich, Nigelli Lawson: W życiu pada wiele pytań, na które czekolada przynosi odpowiedź. Dlatego wysyłając bukiet bliskiej osobie warto dobrać do nich ręcznie robione czekoladki. Dobry humor obdarowanej osoby będzie gwarantowany!