Kolorowe gladiole, zwane inaczej mieczykami ze względu na liście w kształcie miecza, są bardzo często wykorzystywane w kwiatowych kompozycjach. Istnieje wiele odmian, różniących się między sobą barwą, wysokością, konturem płatków oraz czasem kwitnienia. Komu warto podarować bukiet złożony z tych eleganckich kwiatów?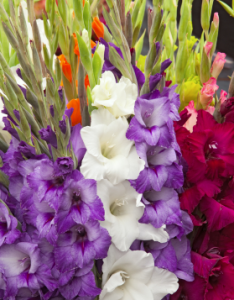 Mieczyki są symbolem zwycięstwa oraz mocy, dlatego zaleca się wręczać je osobie, która osiągnęła sukces. Wyrażają także podziw dla siły i charakteru. Mawia się również, że gladiole wybierają silni mężczyźni, którzy chcą walczyć o uczucia kobiety, mimo wszelkich trudności. Dodatkowo kolor odgrywa w tej kwestii znaczącą rolę. Różowy oznacza chęć wspólnego spotkania się, z kolei biały świadczy o całkowitym zawładnięciu męskim sercem.
Jakie kompozycje najlepiej wybrać? W związku z bogactwem niezwykłych barw mieczyków i ich różnorodną wielkością, mogą same tworzyć bukiet, który bez wątpienia będzie bardzo efektowny. Często kwiaty te występują jednak w towarzystwie innych. Najładniej prezentują się zestawione z kaliami, liliami oraz słonecznikami. Odmiany wysokie idealnie sprawdzają się jako dekoracja wnętrz, właśnie dlatego używane są w dużych aranżacjach zdobiących wystrój bankietów, teatrów oraz kościołów. Natomiast niższe wykorzystywane są w bukietach ślubnych wraz z różami oraz frezjami.
Mieczyki mogą dekorować także domy. Włożone do wysokiego wazonu w niebanalny sposób ozdobią wnętrze mieszkania. Są tak dorodne, że nie potrzebują praktycznie żadnych dodatków. Różne barwy oraz ciekawe kształty kwiatostanów powodują, że złożone z nich bukiety są bardzo widowiskowe.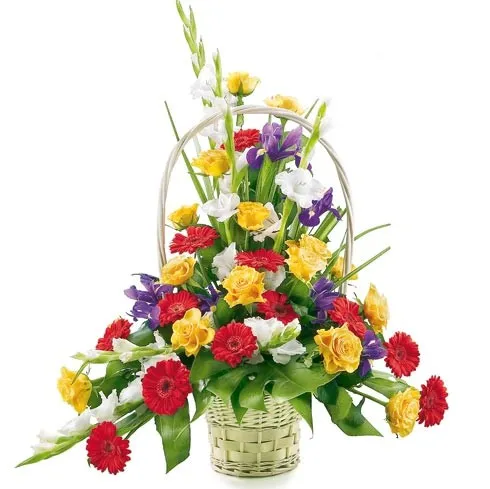 Uprawę gladioli zaczęto już w XVI wieku i początkowo widziano w nich tylko lecznicze zastosowanie. Z biegiem czasu zauważono, że doskonale nadają się także jako kwiaty cięte. Wyróżnia je długa trwałość w wazonie ? odpowiednia pielęgnacja sprawia, że potrafią ładnie wyglądać nawet przez 2 tygodnie. Co należy robić, by przez tak długi czas móc cieszyć się urokiem mieczyków? Przede wszystkim należy ścinać ukośnie ich łodygę i co kilka dni ponawiać to cięcie. Obowiązkowo warto pamiętać, że rośliny te są bardzo wrażliwe na etylen, dlatego nie wolno ich umieszczać obok przekwitających kwiatów oraz dojrzałych owoców. Konieczna jest również codzienna wymiana wody.
Gladiole to niezwykłe rośliny, które pięknie prezentują się zarówno same, jak i towarzystwie innych roślin. Ze względu na ciekawy sposób rozkwitania, od dołu do szczytu, wykorzystywane są często w różnego typu dekoracjach. Prawidłowa pielęgnacja sprawi, że długo będzie można je podziwiać.