Wiosną rozpoczyna się sezon na świeże owoce, które można zajadać wprost z własnego ogrodu lub półek sklepowych mając pewność, że pochodzą z polskich upraw. Wielu tęskni za soczyście czerwonymi truskawkami, słodyczą arbuzów czy czereśni, a na ich pojawienie się nie trzeba już długo czekać. Idąc tym tropem można zrobić komuś smaczną, miłą i niekonwencjonalną niespodziankę owocową, która jest doskonałą alternatywą dla tradycyjnych prezentów.
Owoce w czekoladzie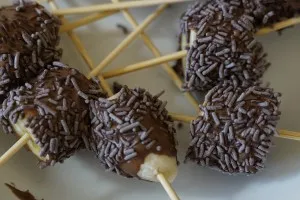 Wszyscy docenią słodycz pralin podarowanych z okazji jakiegoś święta, jednak ilość łakoci otrzymanych w szczególnym dniu może być... imponująca. By wyróżnić swój upominek na tle pozostałych słodkości, warto pokusić się o rarytas jakim są owoce w czekoladzie. Sprzedaje się je zwykle w specjalnych
budkach, restauracjach czy kawiarniach, jednak by ich spróbować nie trzeba ruszać się z domu. Owoce w czekoladzie można zamówić przez internet, a ich dostępność jest naprawdę spora. Wyboru można dokonać spośród bananów, gruszek, winogron, truskawek, moreli, śliwek, jabłek czy ananasów, a to nie koniec urozmaiceń. Oblane różnymi rodzajami czekolady, zapakowane w piękne pudełka i występujące w towarzystwie uroczych pluszaków łakocie będą doskonałym prezentem, którego oryginalność zaskoczy osobę obdarowaną.
Zestawy owocowe
Prócz opisanego wyżej wariantu, owoce mogą być wykorzystane w jeszcze inny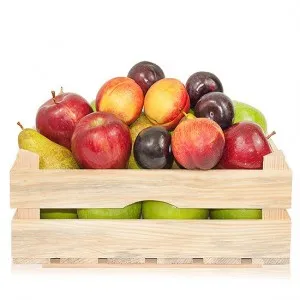 sposób. Ich kreatywne zestawienie z dobrymi alkoholami czy naturalnymi sokami to wprost wymarzony upominek dla tych, którzy lubią nietypowe rozwiązania. Charakterystyczne drewniane skrzynki wypełnione owocami o nieprzypadkowym, bo dopasowanym kolorystycznie rozmieszczeniu są pysznym prezentem zarówno dla osoby bliskiej, jak i tej, do której należy mieć nieco większy dystans. Znane alkohole dopełniające całości będą dodatkiem właściwym na niemal każdą okazję, a sposób ich wręczenia stanowiący alternatywę dla tradycyjnych paczek okazyjnych, wywoła uśmiech na niejednej twarzy.
Owoce zamiast kwiatów
Bukiety skomponowane z żywych kwiatów to wspaniały upominek, który poprawia nawet najpodlejszy nastrój i zawsze zostanie miło przyjęty. Jednak co by się stało, gdyby zastąpić go owocową kompozycją, która nie tylko pięknie wygląda, ale też pysznie smakuje? Utwierdzone w kolorowych doniczkach owoce wycięte zostały w fantazyjny sposób, by jak najwierniej odzwierciedlały żywe rośliny. Te oryginalne bukiety tworzy się z truskawek, ananasów, kiwi, winogron i dwóch gatunków melonów, a żywe barwy łakoci i dodatków przyniosą wiele słońca - niezależnie od pogody jaka panuje za oknem!
Okazja wymagająca zakupienia jakiegoś upominku stawia nas przed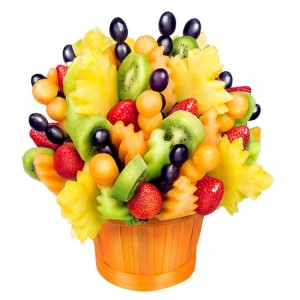 dylematem: co okaże się niebanalne, trafione, wyważone i jednocześnie nie nadwyręży zbytnio budżetu? Odpowiedź jest prosta - prezenty skomponowane z owoców! Ten prosty patent na wykorzystanie produktów, których spożywanie sprawia wielką przyjemność każdemu człowiekowi jest doskonałym rozwiązaniem dla wszystkich długo zastanawiających się nad wyborem właściwego upominku. Dodatkowe zaskoczenie wywoła fakt, że prezent zostanie dostarczony wprost pod wskazany adres, sprawi więc komuś podwójną przyjemność! :)