Calluna vulgaris, pod tą nazwą kryją się dość niskie krzewy znane nam częściej pod terminem wrzos zwyczajny bądź pospolity. Naukowa nazwa bazuje tradycyjnie na językach starożytnych. Źródłem słowa calluna jest grecki wyraz oznaczający zamiatać. Natomiast vulgaris to inaczej wspólny, pospolity. Taki zlepek słów nie dziwi, jeśli weźmiemy pod uwagę, iż dawniej to właśnie wrzos wykorzystywany był do produkcji mioteł.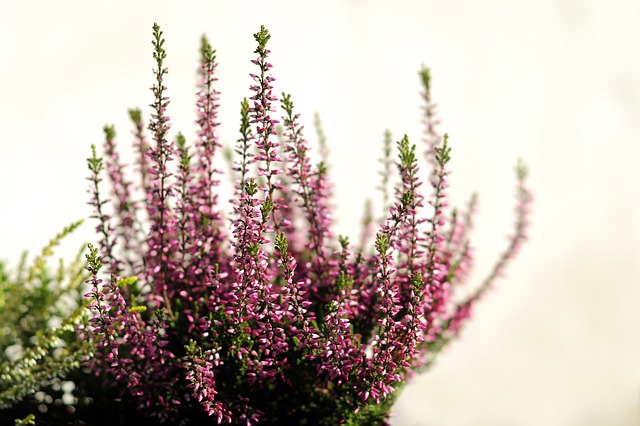 Jego pochodzenie jest typowo europejskie aczkolwiek korzenie sięgają także Azji Mniejszej. Napotkać go możemy na kontynencie australijskim, dokąd sprowadzony przez człowieka, znalazł dla siebie przyjazne warunki do dalszego rozwoju. Jego najmniejsze gałązki osiągają tylko kilka centymetrów. Jednak, te najczęściej przez nas napotykane na ojczystych łąkach mają od ok. 20 do nawet 60 cm. Kwiaty są drobnej budowy i w zależności od odmiany przybierają rożne kolory. Najbardziej popularne są te fioletowe, często spotykane przez nas na tzw. wrzosowiskach. Nie jest im jednak obce także ubarwienie białe, czerwone czy purpurowe.
Pora kwitnienia rośliny przypada od końca lipca do listopada w zależności od półkuli, na której rośnie. Wrzos lubi stanowiska słoneczne i średniowilgotne, kwaśne gleby. Kwiaty prezentują się bardzo dobrze w dużych skupiskach np. na wrzosowiskach. Nie stracą jednak nic ze swojego uroku, jeśli przeniesiemy je w bardziej zamknięte rejony i wykorzystamy jako przydomową ozdobę. Roślina ta nadaje się idealnie do obsadzania nią skarp, wszelkich skrzyń czy jako balkonowa ozdoba.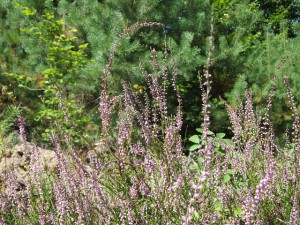 Wrzos nie tylko pięknie wygląda, lecz także posiada właściwości prozdrowotne. Kwiaty i ziele wykorzystywane są przy problemach układu pokarmowego. Mają także działanie moczopędne. Na jego bazie tworzony jest wyśmienity, lecz trudny do uzyskania miód kwiatowy. Podobno w czasach starożytnych ten charakterystyczny słodki, a zarazem gorzki smakołyk był spożywany przez małżeństwa podczas nocy poślubnej mając zapewnić zdrowie ich przyszłemu potomstwu.