12 kwietnia obchodzimy Dzień Czekolady. Święto to uwielbiane jest szczególnie przez wszystkich fanów czekoladowych tabliczek, batonów, bombonierek i wielu innych wyrobów, mających w sobie ten przepyszny składnik. Jest to również idealny czas, aby wręczyć komuś słodki upominek, gdyż powodów, aby sięgnąć po czekoladę jest naprawdę wiele.

Długa historia czekolady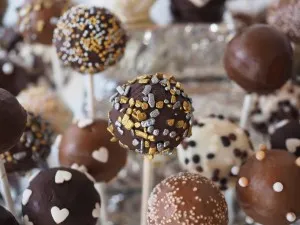 Dawniej czekolada nie była traktowana jako słodka przekąska, którą chętnie wręczamy swoim bliskim jako miły podarunek. Była traktowana jako gorzko-pikantny napój w czasach Majów i Azteków. Jednak to oni jako pierwsi opracowali metody obróbki ziaren kakaowca. Na początku je rozcierali, fermentowali czy mielili dodając wodę, kukurydzę lub suszone płatki kwiatów. Obecna postać czekolady zawitała do Europy w XVI wieku dzięki nadwornemu mistrzowi kuchni Ludwikowi XIII o charakterystycznym nazwisku Pralin. To właśnie na jego cześć nazwano małe, czekoladowe cukierki pralinami. Od tej pory słodycz ta stanowi podstawę w cukiernictwie przy tworzeniu różnych deserów. Powstają z niej ciasta, musy, lody, czekoladki, fantazyjne tabliczki, a także wiele innych pyszności, które są chyba ulubioną formą słodkości w każdej grupie wiekowej.
Gorzka czekolada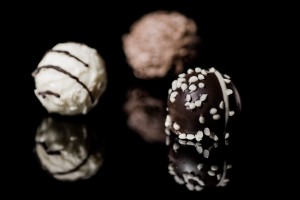 Zawiera  70-95% miazgi kakaowej, a także niewielką ilość cukru czy polepszaczy smaku. W porównaniu do mlecznego odpowiednika zawiera przede wszystkim więcej tłuszczu kakaowego, błonnika i białka. Jej spożywanie jest zalecane zwłaszcza ze względu na cenne dla organizmu przeciwutleniacze. Duża ilość miazgi kakaowej  jaką zawiera, sprawia że posiada mniej cukru. Dodatkowo spośród wszystkich rodzajów słodyczy jest najbardziej bezpieczna dla zdrowia - zapobiega zakrzepom, zmniejsza ryzyko zawału serca, a także przeciwdziała cukrzycy. Czekolada ciemna jest zdecydowanie uznawana za najbardziej wartościową, gdyż zawiera wiele potrzebnych składników dla poprawnego funkcjonowania organizmu m.in :
magnez - wspiera organizm podczas zmęczenia
żelazo - wspomaga produkcję krwinek czerwonych krwi
węglowodany - dostarczają potrzebnej energii
niacyna - wspiera energię, uwalnianą w pokarmie
fenyloetyloamina - wpływa pozytywnie na nastrój, należy do grupy endorfin.
Dzięki pozytywnym właściwościom czekolady, która w odpowiednich ilościach ma dobry wpływ na nasz organizm idealnym upominkiem dla najbliższych może okazać się bombonierka owoców. Banany w ciemnej i białej czekoladzie, winogrona czy gruszki to świetny pomysł na oryginalny i niebanalny podarunek dla ukochanej osoby.
Czekoladowe pyszności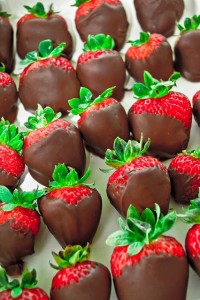 Mleczna czekolada zawiera wiele składników podnoszących poziom serotoniny, która odpowiada za dobry nastrój. Dla wszystkich łasuchów prezenty z czekolady mlecznej, takie jak kosze upominkowe pełne słodkości, fantazyjne torty czy grawerowana skrzyneczka z cukierkami sprawdzi się znakomicie jako miły prezent niezależnie od okazji.
Wielbicielom czekolady białej polecamy natomiast połączenie jej z truskawkami czy śliwkami - smak jest wręcz wyśmienity! Taka forma prezentu to wyjątkowy sposób na przekazanie komuś pozdrowień czy najserdeczniejszych życzeń.
Czekolada w odpowiednich ilościach ma doskonały wpływ na zdrowie, poprawia nastrój, a także dodaje wiele energii do pracy. Wszystkie produkty zawierające czekoladę idealnie sprawdzają się jako słodkie prezenty dla ukochanych osób. Niezależnie od tego czy wybierzemy ciemną, mleczną czy białą taki upominek z pewnością będzie pyszny. Świętujmy zatem Dzień Czekolady razem z bliskimi, zaskakując ich uroczym podarunkiem!