Tworzenie prostych kwiatowych dekoracji nie jest ani skomplikowane ani czasochłonne. Poniżej przedstawiamy wskazówki, które pomogą Wam się o tym przekonać.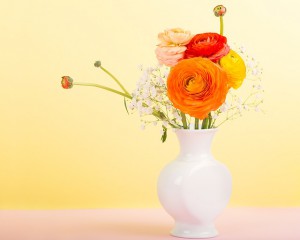 Kluczem do sukcesu jest dobranie odpowiednich kwiatów do rozmiaru i kształtu wazonu. W kulistej bądź kwadratowej formie naczynia dobrze prezentują się kwiaty krótko cięte. Natomiast większe, smuklejsze formy podkreślą urodę kwiatów wysokich takich jak np. mieczyki, ostróżki czy kalie. Główną zasadą jest stosunek wysokości naczynia do roślin. Standardowo wazon powinien mieć do 1/3 wysokości kwiatów. Natomiast w formie kulistej właściwe proporcje to 50/50. Jeśli kwiaty nie pasują idealnie do kompozycji, nie obawiajcie się podcinania, jeżeli ma to pomóc w realizacji zamysłu. Łodyżki ścinamy zawsze pod kątem, wodę wymieniamy codziennie i usuwamy liście znajdujące się poniżej linii wody. W ten sposób zachowamy bukiet na dłużej.
Kompozycje (czas wykonania poniższych aranżacji zajmuje tylko ok. 10-15 min):
Zaopatrz się w kwiaty z rozłożystymi płatkami.
Przykładowo do tego celu może Ci posłużyć słonecznik czy stokrotka.
Następnie przytnij je dość blisko kwiatostanu i włoż do niskiego naczynia wypełnionego wodą.
Dla podkreślenia wizualnego wrażenia możesz swoją aranżację uzupełnić kilkomaspecjalnymi świecami.
Równie prostą w swoim wykonaniu jest kompozycja składająca się z kwiatów ostróżki jako bazowych i róż czy kalii jako uzupełniających.
Odcień tych ostatnich zależy od tego, jakie Twoim zdaniem najlepiej pasują do koloru ostróżki.
Następnie kwiaty uzupełniające zetnij tak, aby włożone do wazonu w ilości wypełniającej jego krawędzie tworzyły zwarty kołnierz.