Wielkimi krokami zbliża się Dzień Matki, a wraz z nim okazja do wspólnego świętowania. Mama to z pewnością najważniejsza osoba w życiu każdego z nas. Zawdzięczamy jej życie i ogromną troskę o nasze potrzeby. To ona była obecna w najważniejszych momentach naszego życia, opiekowała się nami, wspierała, nierzadko pomagała wyjść z trudnej sytuacji. W dniu jej święta warto zatem pomyśleć o wyjątkowej niespodziance, która pozwoli okazać szacunek, podziw i wdzięczność. Czasami upominek pozwala wyrazić to, czego nie sposób wypowiedzieć słowami.
Pachnąca przyjemność
Ponadczasowym i uniwersalnym pomysłem są oczywiście kwiaty, których symbolika służy do wyrażania określonych uczuć. Ich przewagą jest również to, że są uwielbiane przez absolutnie wszystkie kobiety. Twoja mama z pewnością ma ulubiony ich rodzaj lub kolor, który szczególnie jej się podoba. Przepięknie skomponowany bukiet z dołączonym bilecikiem sprawi jej wiele radości, szczególnie jeśli wręczysz go jej osobiście. Możesz także wysłać go Pocztą Kwiatową jako najlepszą zapowiedź Twojej wizyty.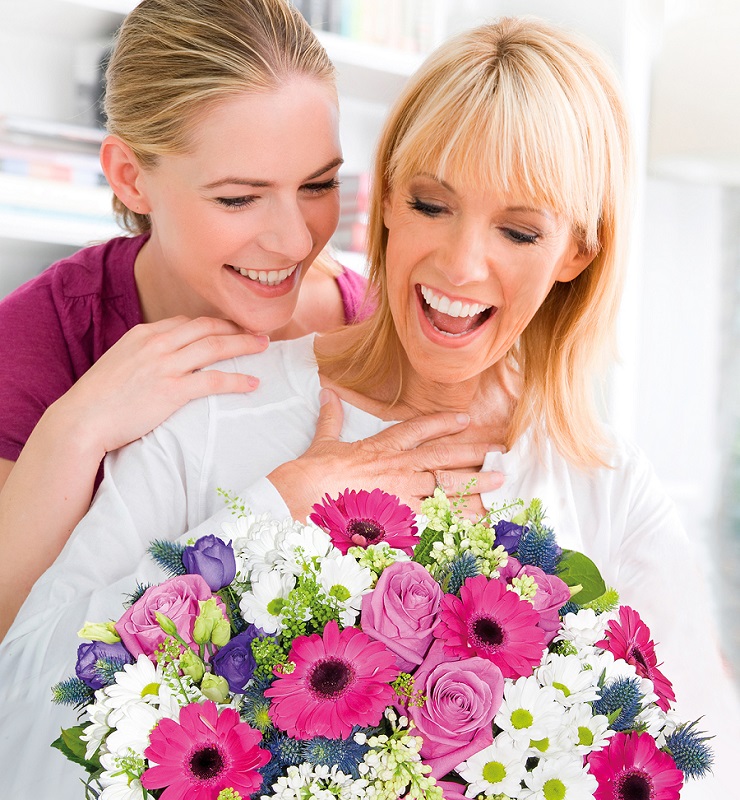 Ze specjalnym podziękowaniem
Jeśli chcesz, by Twoja mama poczuła się wyjątkowo, wybierz prezent, na którym zamieścisz specjalną dedykację lub Waszą ulubioną sentencję. Z pewnością macie sytuacje, cytaty, ulubione powiedzenia, które wspólnie Was cieszą i niosą ze sobą szczególne wspomnienia. Możesz wygrawerować je na eleganckiej ramce do zdjęcia, szkatułce lub pudełku na prezent. Pomyśl, jakim będzie to zaskoczeniem i ile radości sprawi Mamie jego otwieranie. Bez wątpienia będziecie go wspominały po latach z łezką w oku.
Wyjątkowa moc czekolady
Doskonałym pomysłem na prezent jest także specjalnie skomponowany z ulubionych słodkości kosz, który można wykonać samodzielnie lub zamówić z opcją doręczenia pod wskazany adres. Pyszne, czekoladowe pralinki, aromatyczny zestaw herbat i kaw, słodkie syropy i ulubione wino, finezyjnie ułożone i zapakowane będą doskonałym wyrazem miłości. To także wyśmienita okazja do wspólnego spędzenia czasu przy lampce wina lub filiżance ulubionego napoju.
Perła wśród kosztowności
Każda mama zasługuje na to, by otaczać ją tym co najpiękniejsze, dlatego znakomitym wyborem może okazać się także biżuteria. Delikatny naszyjnik, bransoletka lub wykwintnie zapakowane kolczyki wywołają szczery i promienny uśmiech na twarzy Twojej mamy. Jeśli dodatkowo wygrawerujesz słowa podziękowania, prezent stanie się wyjątkową pamiątką i niewątpliwą perłą w kolekcji. Z pewnością doskonale wiesz co najbardziej przypadnie do gustu Twojej rodzicielce.
Wymarzona niespodzianka
A może jest coś o czym Twoja mama nieśmiele marzy, ale nie chce lub boi się powiedzieć? Wymarzona wycieczka, przepiękna bluzka, element dekoracyjny, ulubiona książka… pomysłów jest wiele. To Ty jesteś osobą, która najlepiej mamę zna i wie czego jej potrzeba. Warto dyskretnie zapytać, dowiedzieć się jakie ma pragnienia i potrzeby. W końcu niespodziewane upominki cieszą najbardziej.
Każda mama zasługuje na to, by czuć się wyjątkowo zarówno na co dzień, jak i w dniu jej święta. Dzień Matki to doskonała okazja do spotkania, wyjścia na spacer i wręczenia wyjątkowego upominku, który doskonale doskonale wyrazi słowa kocham Cię oraz podziękowania. Sprawmy zatem, by ten dzień był niepowtarzalny i jedyny w swoim rodzaju.