Florysta to zawód stosunkowo nowy, chociaż ludzie od zawsze obdarowywali się kwiatami. W ostatnich latach florystyka bardzo rozwinęła się jako dziedzina artystyczna. Tworzone są nie tylko bukiety imieninowe, ale także wszelkiego rodzaju wianki, kompozycje dekoracyjne do mieszkań i ogrodów, a także wymyślne wiązanki ślubne.
Czym zajmuje się florysta?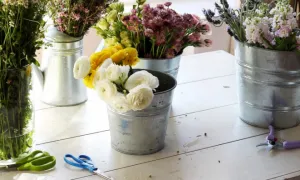 Najważniejszą cechą, jaką musi mieć florysta jest z pewnością kreatywność. Na drugim miejscu należy postawić odwagę do poszukiwania niebanalnych rozwiązań, a dopiero później można mówić o warsztacie technicznym. Najbardziej istotne są te umiejętności wrodzone - pasja i talent. Taki jest właśnie zespół Poczty Kwiatowej®, złożony z osób dla których praca florysty to coś znacznie ważniejszego niż po prostu układanie kwiatów. Lubimy eksperymentować, ale też nieustannie szkolimy sw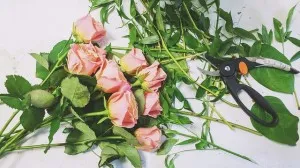 ój warsztat, aby móc zaproponować Klientom trendowe i innowacyjne rozwiązania. Zajmujemy się także odpowiednim przygotowaniem roślin, projektujemy kompozycje, które są przez nas wykonywane. Dzięki temu można przekazywać emocje bliskim, nawet gdy dzielą od nich kilometry. My docieramy nawet do najdalszych zakątków świata po to, aby można było złożyć życzenia urodzinowe mamie, pogratulować siostrze zdanego egzaminu lub po prostu zrobić miłą niespodziankę przyjaciółce. I to właśnie w tej pracy lubimy najbardziej!
Dzień Florysty - nasze święto
W roku 2010, po wielu staraniach osób z branży, 27 kwietnia ustanowiono Dniem Florysty. Tym samym spotkała nas duża nobilitacja i jednocześnie sformalizowanie naszej pracy jako zawodu. Bardzo oryginalnego i artystycznego, bo florystyka zawsze będzie przede wszystkim prawdziwym hobby, ale przecież może być także sposobem na życie. Staramy się doradzać w tworzeniu wymarzonych kompozycji i pomagać wybrać bukiety idealnie pasujące do danej okazji. Nieustannie poszerzamy naszą ofertę, aby sprostać wciąż rosnącym oczekiwaniom. Cze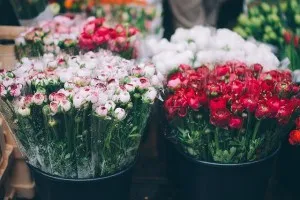 go życzymy sobie i innym florystom w dniu tego święta? Przede wszystkim tego, by cieszyć się z pracy, w której codziennie można stworzyć coś pięknego i wywołać uśmiech na wielu twarzach. Poza tym dużo cierpliwości, która w tej branży jest szczególnie istotna, a także niesłabnącej odwagi, by móc wcielać swoje szalone pomysły w życie. :-)
Tworzenie kompozycji, którymi nasi Klienci mogą obdarować swoich bliskich, to prawdziwa pasja. Nieustannie się rozwijamy i szukamy nowych rozwiązań, by codziennie móc zaskakiwać nowymi pomysłami. A wszystko to wynika po prostu z… miłości do kwiatów.