Zbliżający się Halloween to znakomita okazja do zabawy, zwłaszcza dla najmłodszych, którzy czerpią wiele radości z robienia psikusów, straszenia i zajadania się słodkościami w postaci cukierków, batoników i ciasteczek. Aby przyczynić się do organizacji halloweenowego szaleństwa dla dzieci, warto przygotować kilka strasznych, a zarazem zabawnych dekoracji, które urozmaicą ten wyjątkowy wieczór.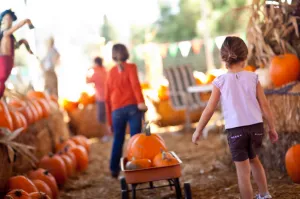 W okresie poprzedzającym to święto, w wielu miejscach można znaleźć gotowe już ozdoby halloweenowe. Można też przygotować je samodzielnie. Obie propozycje są warte uwagi, jednak zdecydowanie ta druga przyniesie z pewnością dużą frajdę podczas samych przygotowań.
Podczas Halloween bardzo ważny jest mroczny nastrój. Decydując się na przygotowanie ozdób na tę okazję, można poddać się własnej fantazji. Wystarczy trzymać się najważniejszej zasady - im straszniej, tym lepiej. Do stworzenia takich dekoracji mogą przydać się: papier, sznurki czy słoiki.
Na kolorowym papierze można narysować kontur nietoperza, a następnie wyciąć go nożyczkami zgodnie z poprowadzoną linią - takie papierowe nietoperze mogą posłużyć jako podkładki na stół lub jako ozdoba na okno. Aby stworzyć jeszcze bardziej mroczny nastrój w mieszkaniu, z przygotowanych wcześniej sznurków można zrobić prowizoryczną pajęczynę, oplatając sznurkiem wszystkie kąty i lampy. Natomiast puste słoiki to świetny materiał na lampion. Wystarczy owinąć je bandażem tak by zostawały wolne przerywniki lub pomalować je kolorowymi farbkami, markerem namalować straszące twarze, a w środku umieścić podgrzewacz.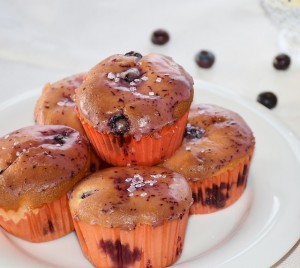 Na ten dzień można przygotować również specjalne smakołyki. Mogą nimi być uwielbiane zarówno przez dzieci jak dorosłych muffinki z dodatkową dekoracją lub piernikowe ciasteczka z uśmiechniętymi twarzami polane masą cukrową - dostępne w ofercie Poczty Kwiatowej. Takie ciasteczka mogą również posłużyć jako prezent-niespodzianka dla bliskich osób.
Mówiąc o dekoracjach o Halloween nie można zapomnieć o najpopularniejszym warzywie tego okresu, a mianowicie o dyni!
Warto zakupić choć jedną sztukę i własnoręcznie zrobić z niej efektowny lampion. Zanim jednak kupi się dynię, dobrze jest najpierw wybrać wzór miny, który chce się wykonać. Gotowe propozycje można znaleźć w internecie albo zaufać własnej twórczości i wymyślić coś zupełnie innego. Przy wyborze dyni należy zwrócić uwagę na to, czy ma ona odpowiedni pomarańczowy kolor i czy nie ma oznak pleśni.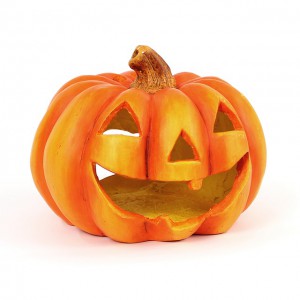 Przystępując ją do cięcia, warto przygotować ostry ząbkowany nóż. Na początku warto wyciąć otwór wokół łodygi. Jest to konieczne do wykrojenia wnętrza warzywa. Na tak przygotowaną dynię wystarczy nałożyć szablon z miną, bądź zrobić to za pomocą kalki. Mniejsze nożyki pozwolą na większą precyzję w wycinaniu. Tu bez wątpienia przydadzą się ręczniczki papierowe, aby zetrzeć sok, który będzie się pojawiał w czasie pracy. Do gotowej dyni najlepiej włożyć kilka podgrzewaczy i natrzeć ją wazeliną, która zatrzyma wilgoć i sprawi, że lampion wytrzyma znacznie dłużej.
Taki dyniowy lampion warto postawić w salonie (na parapecie albo stole), przed domem lub na balkonie. Z pewnością da popis kreatywnych umiejętności i zrobi niesamowite wrażenie na gościach, nie tylko w Halloween. Wydrążone dynie mogą również przybrać formę eleganckiego świecznika, którego odbite pomarańczowe światło doda wnętrzu przytulności, która z pewnością przyda się o tej porze roku.