Złota jesień słynie z tego, że dostarcza wszystkim mnóstwa różnorodnych materiałów, z których wykonać można oryginalne i kolorowe dekoracje. Żółte, pomarańczowe, czy czerwone liście są idealnym motywem na przystrojenie wnętrza domu. Dodając do nich kasztany, żołędzie czy szyszki można stworzyć własną, wyjątkową kompozycję i nadać odpowiedni klimat czterem kątom.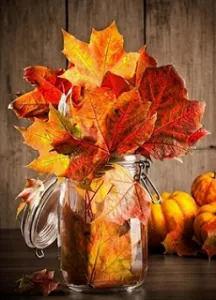 Pomysłów na stworzenie jesiennego bukietu może być tyle, ilu jego twórców. Najbardziej popularna stała się wiązanka z liści klonu. Składając i zawijając je w odpowiedni sposób, stworzyć można prosty kształt róż, które w otoczeniu samych tylko liści utworzą zgrabny i uroczy bukiecik. Chcąc nadać połysk wykonanej kompozycji, trzeba delikatnie spryskać ją lakierem do włosów.
Poza liśćmi klonu, do tworzenia ozdób mogą być wykorzystywane wszelkie inne, pochodzące z najróżniejszych drzew. Dobierane wedle uznania i składane w dowolny sposób są wyrazem ludzkiej pomysłowości. Można stworzyć wypełnienie kwiatu ze złożonych w kulki liści, a następnie otoczyć je kolejnymi, tworząc jego płatki. Warto pamiętać, by każdą kompozycję zabezpieczyć gumką recepturką, kawałkiem sznurka czy innym tworzywem, które nie pozwoli na rozpad bukietu.
Dla osób lubiących bogatsze zestawienia, bukiet z liści uzupełnić można kolejnymi jesiennymi dodatkami. Świetnie jako ozdoba sprawdzi się jarzębina, gałązki buczyny, pnącze, sucha trawa, jabłka lub ich suszone plasterki. Wszystko to dobrane według własnych upodobań i sympatii do wymienionych elementów.
Wszystkie składniki kompozycji można umieścić w zależności od ich wielkości w specjalnie do tego przygotowanym wazonie, kieliszku czy pucharku. Świetnie sprawdzi się także doklejanie poszczególnych elementów na kawałek dopracowanego wcześniej fragmentu sklejki, deski czy innej drewnianej formy. Tak stworzone dzieło znajdzie swoje miejsce zarówno na komodzie, jak i na ścianie.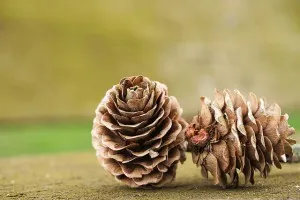 Mówiąc o jesiennych dekoracjach nie sposób pominąć kasztanów, szyszek, czy żołędzi, które mogą stanowić dodatek do gotowych bukietów lub być ich częścią, na przykład tworzyć płatki bądź wypełnienie. Mogą one być zawijane w liście lub występować samodzielnie, w całości lub w częściach. Czasami do wykonania bukietu potrzebne są tylko łuski szyszek, czy na przykład kapelusze żołędzi.
Co więcej kasztany, jak i wymienione wyżej szyszki i żołędzie, są świetną propozycją zabawy nie tylko podczas wymyślania bukietów. Tworzone z darów jesieni ludziki i zwierzątka pobudzają dziecięcą wyobraźnię, a wykonywane wspólnie z rodzicami, zacieśniają rodzinne więzi.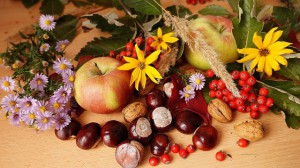 Samodzielnie robione dekoracje jesienne to, oprócz dużej satysfakcji i świetnej zabawy, dobra okazja na spędzenie czasu z rodziną. Spacery w poszukiwaniu elementów dekoracji, selekcjonowanie liści, kasztanów czy żołędzi, a następnie wspólne tworzenie z nich kompozycji, są miłym urozmaiceniem jesiennego popołudnia.
Jesień to doskonały moment na wzbogacenie domowego wnętrza o nowe, oryginalne dekoracje, które na pewno wywołają uznanie u odwiedzających. Ponadto, tworzenie jesiennych ozdób to także świetna okazja do rozwijania wyobraźni i zdolności artystycznych oraz spędzenia czasu z rodziną.