Nieśmiałe spojrzenia, iskierki w oczach i te motyle w brzuchu… właśnie tak zaczyna się stan zakochania, który po próbie czasu przeradza się w miłość. To piękne uczycie między dwojgiem ludzi wstępnie pieczętuje się zaręczynami, a dalej złożeniem przysięgi małżeńskiej. Zanim jednak do tego dojdzie, narzeczeni muszą ustalić konkretny termin ślubu, a wybór najczęściej pada na sierpień. Jak to się dzieje, że od lat jest to najpopularniejszy miesiąc ślubny?

Przesąd z literą "R"
Chociaż wiele osób się do tego nie przyznaje, to prawdopodobnie ze względu na występowanie litery "R" w nazwie miesiąca, sierpień cieszy się tak dużym powodzeniem. W zasadzie nie wiadomo skąd wziął się ten przesąd, ale ma gwarantować szczęście Młodej Pary, a nawet uchronić przyszłych potomków... od wad wymowy tej litery.
Ładna pogoda
Sierpień jest jednym z letnich miesięcy, dających duże prawdopodobieństwo na ładną pogodę. Panna Młoda nie musi więc martwić się o to, czy jej kreacja zostanie zauważona - z pewnością będzie mogła zaprezentować ją w całej okazałości. Ponadto coraz większą popularnością cieszą się wesela i śluby w plenerze, które są marzeniem niejednej pary. Tak przygotowana ceremonia może udać się tylko w sprzyjających warunkach atmosferycznych, szczególnie, gdy zabawa trwająca do białego rana, również odbywa się na dworze. Wtedy też można zaszaleć z atrakcjami - przejazd kabrioletem, dorożką, rowerami, motocyklami, puszczanie lampionów i wiele innych fantazji Pary Młodej.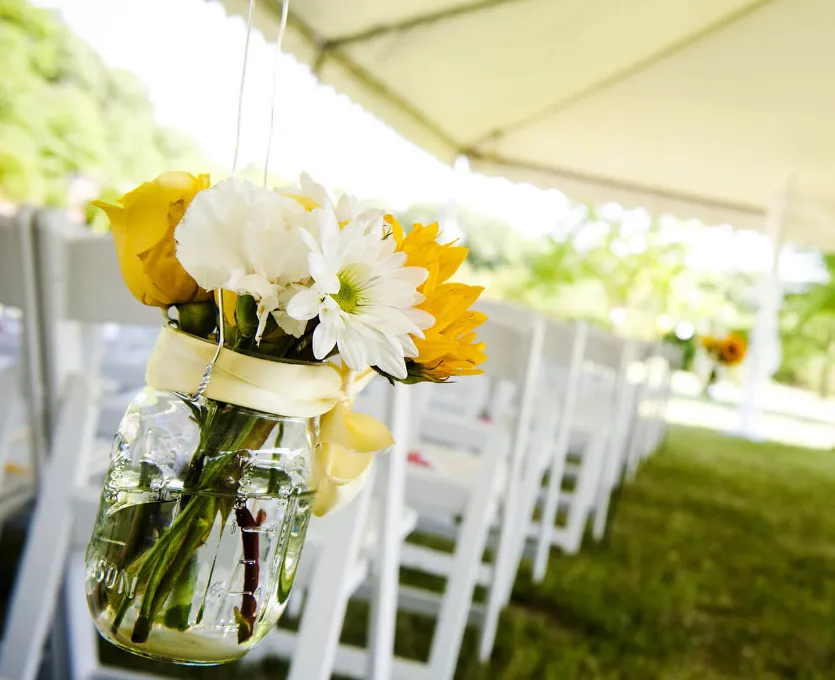 Sezon na kwiaty
Nie ma w ciągu roku większej różnorodności wśród kwiatów, niż latem. Odpowiednie temperatury sprzyjają kwitnieniu wielu gatunków: kwiaty polne, lilie, piwonie, mieczyki, eustoma, słoneczniki, dalie i oczywiście róże, to niektóre z najpopularniejszych kwiatów wykorzystywanych w letnich bukietach ślubnych. Można bawić się kolorami, ale również formą dekoracji poprzez stworzenie ciekawych kompozycji owocowo-kwiatowych.
Piękna pamiątka na lata
Ślubne sesje zdjęciowe są coraz bardziej oryginalne, a słoneczna pogoda i otaczająca przyroda sprzyjają realizacji nietypowych pomysłów. Sesja przy nadmorskim klifie, w wodzie czy wśród habrów będzie wspaniałą pamiątką na lata.
Wakacyjna podróż poślubna
Po sakramentalnym, sierpniowym "TAK" czas na podróż poślubną, podczas której nowożeńcy po wszystkich przygotowaniach i stresie związanym ze ślubem będą mogli odetchnąć i wypocząć. Wyjazd już w sierpniu lub we wrześniu będzie więc formą wakacyjnego urlopu, który Młodzi zapamiętają na bardzo długo. To w końcu pierwsze wakacje, gdy spędzą je z obrączkami na palcach. Z tego też powodu warto wybrać miejsce, w jakim dotąd nie byli, jako symbol wspólnego odkrywania świata na nowej drodze życia.
Chociaż letnie daty ślubów, a w szczególności sierpień, są popularne od wielu lat i wymagają odpowiednio wczesnych rezerwacji, warto wykazać się cierpliwością. Ślub w tym okresie to wiele korzyści wynikających ze słonecznej pogody i - jeśli ufać przesądom - gwarancja udanego związku.