Żonkil i narcyz - czy te nazwy można stosować wymiennie? Niewielu się na tym zastanawia, a i różnica między tymi kwiatami jest bardzo subtelna. Czym więc się różni żonkil od narcyza?
Żonkile a narcyzy - w czym tkwi różnica?
Na początku trzeba podkreślić, że każdy żonkil jest narcyzem, ale nie każdy narcyz musi być żonkilem. Będąc bardziej szczegółowym - żonkil to jedna z odmian narcyza, co oznacza, że pojęcie "narcyz" jest szersze. Mimo, że nie do końca jest to poprawne, zwyczajowo wszystkie narcyzy nazywamy w Polsce żonkilami, bo właśnie żółte odmiany tych kwiatów najczęściej spotykamy.
Co z tymi narcyzami?
Narcyzy to wiosenne kwiaty, które nie mają zbyt dużych wymagań. Składają się z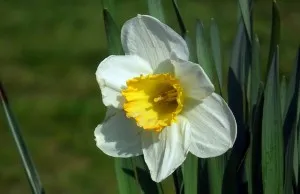 sześciu białych lub żółtych płatków oraz rurki zwanej przykoronkiem, która może być biała, żółta, pomarańczowa, różowa lub czerwona. Narcyzy mają zazwyczaj bardzo intensywny zapach i są trujące dla zwierząt, więc przynosząc je do domu, lepiej uważać na swoich czworonożnych przyjaciół. Narcyz jako gatunek jest podzielony na dwanaście grup, których przedstawiciele różnią się między sobą przede wszystkim wielkością i czasem kwitnienia, niekiedy również liczbą kwiatów na łodydze. Jedną z popularnych odmian są Narcissus jonquilla, czyli narcyzy żółte i to właśnie one mogą być przez nas poprawnie nazywane żonkilami.
Czym się różnią żonkile od narcyzów?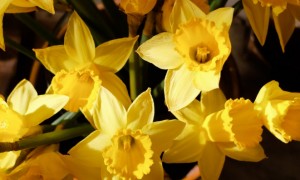 Żonkile mają dłuższą kwiatową łodygę niż inne gatunki narcyzów, wyróżniają się też kształtem płatków. Tak jak większość odmian charakteryzują się nietypowym, nieco odurzającym zapachem. Ich złote kwiaty pięknie wyglądają w bukietach, a wiosenny okres kwitnienia sprawia, że bardzo często pojawiają się na wielkanocnych stołach. Można je wykorzystać do stworzenia ozdób czy stroików i wprowadzić tym do swojego mieszkania trochę koloru. Jako kwiaty cięte długo zachowują świeżość, więc tym chętniej są wykorzystywane we wszelkiego rodzaju kompozycjach kwiatowych.
Żonkil, narcyz - czy to ważne?
Różnice między narcyzem a żonkilem nietrudno dostrzec, jeśli zna się cechy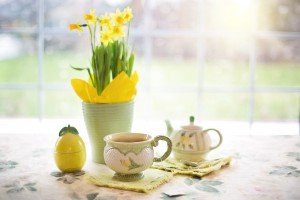 charakterystyczne poszczególnych odmian. Prawdą jest jednak, że dla laika te rozbieżności nie mają zbyt dużego znaczenia - zazwyczaj w wyborze między nimi kieruje się on kolorem, który w danej chwili bardziej mu odpowiada. Jeśli jednak chcemy być skrupulatni w korzystaniu z tych dwóch pojęć, warto zapamiętać, że choć każdy żonkil do grupy narcyzów należy, to nie każdy narcyz może być określony mianem żonkila.