Już 1 listopada obchodzić będziemy Dzień Wszystkich Świętych. To szczególnie wyjątkowa okazja do odwiedzenia grobów naszych najbliższych, postawienia na nich zniczy oraz zaniesienia kwiatów. W Polsce najczęściej składanymi na cmentarzu są niezmiennie chryzantemy. Co powinniśmy o nich wiedzieć?
Jakimi kwiatami są chryzantemy?
Nazwa słowa chryzantema pochodzi od greckiego chyros (złoty) i anthemon (kwiat). Jest to jeden z najtrwalszych kwiatów, który może stać w wazonie ponad 4 tygodnie. Jest odporny na zimno, dlatego często ozdabiano nim werandy na zimowe przyjęcia, parki oraz miejsca publiczne. Ta obszerna roślina, posiada charakterystyczne koszyki kwiatowe, otoczone wielolistną pokrywą. Aktualnie wymienia się aż 50 jej gatunków, jednak w Polsce rośnie tylko jeden - Chryzantema Zawadzkiego.
Jakie jest znaczenie chryzantem?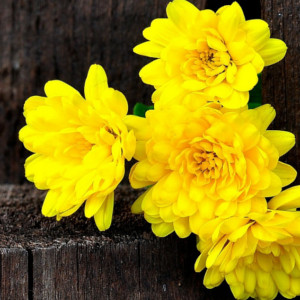 Chryzantemy choć mogłoby się wydawać, że znaczenie mają zupełnie przeciwne to faktem jest, że symbolizują szczęście. Występują w wielu wariantach kolorystycznych. Decydując się na czerwony bukiet możemy wyznać komuś miłość i zainteresowanie, kolorem różowym okażemy swoje oddanie, a złocistym przyznamy się do myślenia o danej osobie. W Polsce przed długi czas nie było tendencji do obdarowywania ludzi tymi kwiatami, aby przypadkiem nikogo nie urazić. Kiedy jednak coraz więcej osób poznało symbolikę tej rośliny, jej popularność wzrosła także poza sezonem listopadowym.
Ciekawostka - znaczenie chryzantem w innych krajach
W kulturze Chin chryzantema była uważana za sposób na nieśmiertelność i udane życie. Chryzantema w kolorze złota o szesnastu płatkach jest herbem cesarzy Japonii, a władcy zaś zasiadają na chryzantemowym tronie. Azjatycka kultura przyjęła te kwiaty jako roślinę optymizmu, szczęścia i słońca. Według ich wierzeń przynosi ona radość oraz pogodę ducha. Przysłowie mówi: "Jeśli chcesz żyć długo, zdrowo i w radości - pielęgnuj ogród chryzantemowy".
Pomimo tego, że chryzantemy najczęściej są nieodłącznym elementem Dnia Wszystkich Świętych to jednak jest to bardzo dostojny kwiat, którego warianty kolorystyczne dają nam nieograniczone możliwości bukietowe także poza 1 listopada.