Zima to dla większości naszych ogrodowych roślin czas odpoczynku, podczas którego przygotowują się, by wraz z nadejściem wiosny zaszczycić na powrót nasze zmysły niezliczoną ilością  kolorów i zapachów.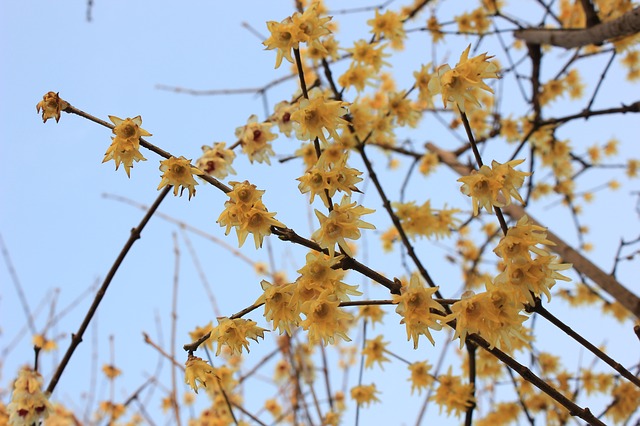 Jednak nie wszystkie kwiaty chowają się przed zimnem. Przykład: Zimokwiat wczesny czyli Chimonanthus praecox. Roślina ta pochodzi z  Chin, lecz oczywiście znana bywa także poza ich granicami. Do Europy, a dokładniej do Anglii, przywędrowała z Japonii. Na terenie ojczystym kwiaty te możemy ją podziwiać w formie drzewa. W naszym klimacie przybierają jednak postać rozłożystego krzewu osiągającego ok. 2 m wysokości i 2 metry szerokości.
Zimokwiat kwitnie na przełomie lutego i marca oczarowując nas żółtymi wielopłatowymi kwiatami o bordowo-brązowym środku. Trzeba jednak przyznać, że nasz zachwyt spowodowany jest także tym, że w pełni rozwinięte kwiaty w białej, śnieżnej scenerii to dość oryginalny widok.  Roślina ta  robi na nas wrażenie nie tylko swoim wyglądem, ale i bardzo silnym zapachem. Podobno jest on wyczuwalny już nawet z odległości kilkudziesięciu metrów. Zimokwiat toleruje niskie temperatury. Przy temperaturach poniżej -20 stopni postarajmy się jednak ochronić je nieco. Stanowisko powinno charakteryzować się dużym dostępem do światła słonecznego, w miarę możliwości osłoniętym przed mroźnym wiatrem.  Ze względu na zapach zalecamy posadzenie zimokwiatu blisko balkonu czy okna, tak byśmy podczas zimowego wietrzenia poczuli chociaż trochę atmosferę kwiecistego lata.
Roślina ta jest bardzo tolerancyjna jeśli chodzi o współczynnik pH, jednak najlepszą będzie dla niej gleba przepuszczalna i niezbyt ciężka. Co kilka lat podetnijmy nieco nasz krzew, by zachował on zwartą formę.