Gipsówka dotychczas kojarzona przede wszystkim z bukietów charakterystycznych dla lat 80-tych i 90-tych powraca w wielkim stylu. Z uwagi na jej subtelny charakter i efektowny wygląd doskonale podkreśli zarówno romantyczny nastrój na przykład na ślubie, jak i doskonale sprawdzi się na każdej innej, ważnej uroczystości.
Gipsówka na ślubie
Gipsówka ze względu na swój uroczy wygląd oraz drobne, delikatne pąki doskonale sprawdzi się na ślubie - czy to jako bukiet Panny Młodej, czy też w roli finezyjnej ozdoby przystrajającej salę weselną lub kościół. W pierwszym przypadku będzie efektownie prezentować się samodzielnie, ponieważ nic tak bardzo jak obfity pęk białych kwiatów nie zaakcentuje romantyzmu danego wydarzenia. Jeżeli jednak  preferujesz bukiety ślubne złożone z kilku gatunków roślin, równie ciekawą propozycją będzie połączenie jej z pudrowymi lub białymi różami albo jaskrami. Gipsówka jako element dekoracyjny może zostać wykorzystana praktycznie wszędzie, a w dalszej części artykułu przedstawimy kilka pomysłów, w jaki sposób  przemienić z jej pomocą zwyczajną salę w niezwykle nastrojowe miejsce.
Jedną z propozycji jest przywiązanie niewielkich bukiecików z gipsówki przy użyciu gustownej wstążki do krzeseł lub zaproszeń ślubnych, dzięki czemu nie będą one tylko nieciekawym meblem, czy kartką wręczaną gościom lecz niesamowitą dekoracją, która zachwyci każdego z nich. Roślina ta sprawdzi się dobrze również na stole weselnym - możesz poukładać na nim klasyczne bukiety skomponowane z gipsówki lub umieścić je w wąskich, wysokich wazonach, w wyniku czego otrzymasz oryginalny efekt "drzewka". Warto podkreślić, że gipsówka jest bardzo wytrzymała i nie potrzebuje wiele wody, dlatego też możemy być pewni, że zastosowana jako ozdoba, będzie prezentować się dobrze przez długi czas.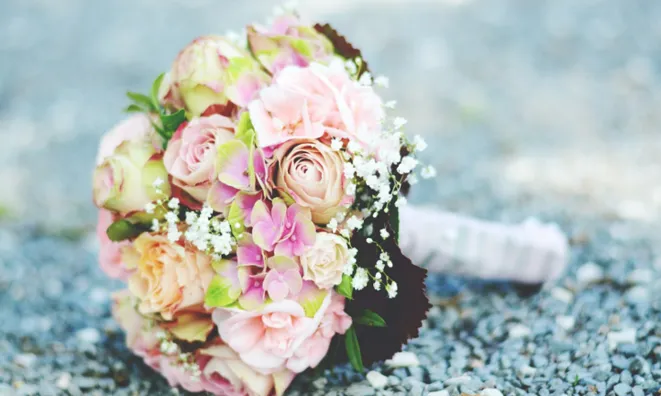 Gipsówka dobrze wygląda na zdjęciach!
Wytworna gipsówka to dekoracyjny hit, natomiast jednym z ciekawych pomysłów na to, jak wykorzystać jej urok, jest użycie jej podczas pamiątkowej sesji zdjęciowej. Girlandy z gipsówki ułożone w fantazyjny sposób mogą być bowiem interesującym, eleganckim tłem do fotografii, sprawiając tym samym, że nabierze ona oryginalnego charakteru. Możemy również zrobić z nich wianek, którego zastosujemy jako element stylizacji podczas sesji - szczególnie, że wianki są obecnie bardzo modne i każda kobieta wygląda w nich dobrze.
Gipsówka to jeden z najbardziej subtelnych kwiatów, który jednocześnie posiada w sobie wielką moc. Dekoracje wykonane z niej mają bowiem niesamowity wdzięk i urzekają każdą osobę - czy to gościa na weselu, czy fotografa robiącego nam pamiątkowe zdjęcie. Pomysłów, w jaki sposób ją wykorzystać jest wiele, natomiast jedynym ograniczeniem jest tu Twoja wyobraźnia oraz poczucie estetyki.