Przygotowania do ślubu zawsze sprawiają, że panna młoda ma wiele na głowie. Pytanie, co na tej głowie zostanie w tym cudownym dniu - wianek, welon, stroik czy może nawet kapelusz? Jeśli stoisz przed trudnym dylematem, a w głowie cały czas krąży Ci pytanie "wianek czy welon?", sprawdź trendy weselne na rok 2018 i dowiedz się, co będzie najlepszym wyborem.
Welon czy wianek - co wybrać?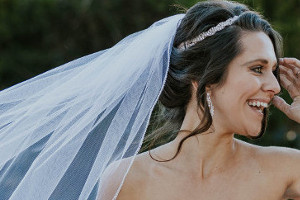 Na początku warto wspomnieć, jakie znaczenie mają te nakrycia głowy. Welon niegdyś zarezerwowany był dla kobiet szlachetnie urodzonych, dopiero później się upowszechnił i zyskał inne znaczenie. Symbolizuje obecnie niewinność, czystość i pokorę. Wianek ma ciekawszą historię, bowiem jest on słowiańskim poprzednikiem obrączek - państwo młodzi podczas ślubu uroczyście się nimi wymieniali. Poza tym, po ślubie panna młoda zrzucała wianek z głowy na znak, że jest już mężatką.
Ślubne trendy 2018
Wiemy, jak to wyglądało kiedyś, teraz czas na spojrzenie na najbliższą przyszłość. Trendy weselne na rok 2018 zdecydowanie skłaniają się bardziej w stronę wianków niż welonów, choć i na te drugie wciąż jest miejsce na ślubnym kobiercu. Dlaczego wianki są teraz takie modne? Wiąże się to przede wszystkim z nastawieniem na śluby w stylu boho i hippii oraz romantyczne klimaty, które od kilku lat stale są na topie. Do tego dochodzą wesela w estetyce rustykalnej lub Industrial Vintage, na których wianek również jest bardzo pożądanym dodatkiem.
Wianek panny młodej
Każda romantyczka w głębi duszy wie, że wianek to coś, co będzie idealnym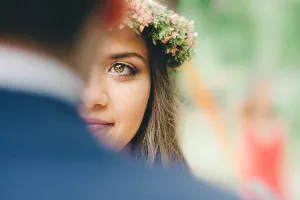 dopełnieniem jej kreacji ślubnej. Również panie o bardziej zdecydowanych charakterach znajdą w tych nakryciach głowy dużo uroku. Kwiaty we włosach sprawdzą się i w plenerze, i na sali, w Urzędzie Stanu Cywilnego i w kościele. Wianki można dowolnie dostosować do atmosfery całego ślubu oraz dopasować do urody panny młodej - nie są one wcale przeznaczone jedynie dla delikatnych, złotowłosych dziewczyn.
Nakrycie głowy na ślubie ma za zadanie zdobić i uzupełniać całą stylizację. Najlepiej, jeśli na dodatek pasuje do motywu przewodniego i kolorów całego ślubu oraz wesela, ale nie trzeba z tym przesadzać. Najważniejsze, by panna młoda czuła się pięknie, niezależnie od tego, czy na ślub w 2018 roku wybierze welon czy wianek.