Jak praktycznie każdego roku, wraz z wiosną, powraca moda na tulipany. Zanim podejmie się decyzje o wysłaniu komuś bukietu, który zawiera te wyjątkowe kwiaty, warto dowiedzieć się o nich więcej. Prezentujemy garść ciekawostek na temat ich historii oraz współczesnego znaczenia.
Nazwa kwiatu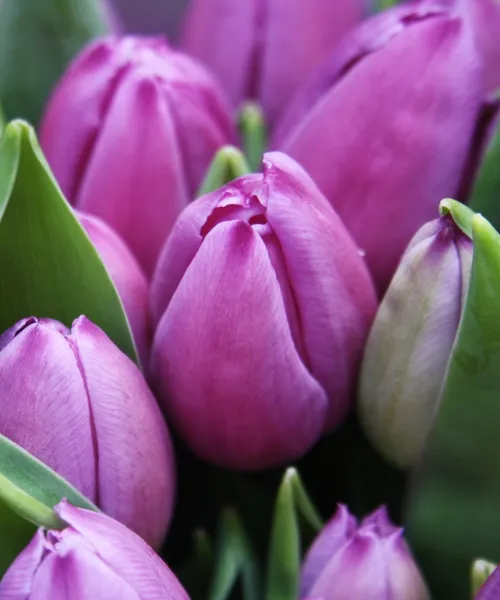 W niemal każdym języku nazwa tego kwiatu brzmi bardzo podobnie, od angielskiego "tulip", przez niemieckie "tulpe", aż do szwedzki "tulpan". Oczywiście nie jest to żaden zbieg okoliczności - słowo weszło do użycia, kiedy zaczęto hodować tulipany w Europie. Pochodzi od ottomańskiego "tülbend" lub perskiego "delband" - oznaczają one materiał do tworzenia turbanu lub po prostu sam turban. Ogrodnikom od zawsze ułożenie płatków kojarzyło się właśnie z kształtem tego nakrycia głowy.
Europejskie początki
Orientalne skojarzenia związane są również z tym, że właśnie z Bliskiego Wschodu przywędrował ten gatunek do Europy. Chociaż w okolicach pustynnych tulipany rosną dziko, zauważone zostały na dworach sułtańskich. Za europejskiego pioniera uprawy uznaje się powszechnie botanika Carolusa Clusiusa. Otrzymał on cebulki od cesarskiego ambasadora, a następnie na drodze eksperymentów stworzył odmiany, które mogą bez przeszkód rosnąć w chłodniejszym klimacie.
Tulipomania? To prawdziwe zjawisko!
Użyte w tytule słowo "tulipomania" to nie neologizm, tylko nazwa zjawiska, które faktycznie zaobserwowano w przeszłości. Określa się tak nagłą modę na ten gatunek, trwającą w Holandii w latach '30 XVII wieku. Stał się wtedy symbolem luksusu, a cebulki niejednokrotnie kosztowały tyle, co dom w Amsterdamie! Choć szał minął, wyrażenie jest do dzisiaj obecne w języku. Dla przykładu, ekonomiści określają tak czasami bańkę spekulacyjną bądź niewytłumaczalny wzrost popytu na jakieś dobro.
Tulipanowy ogród
Tulipan jest narodowym symbolem Holandii, więc nie można pominąć ciekawostki rodem z tego kraju. Nie tylko eksportuje on rocznie najwięcej, bo ponad miliard tych kwiatów, ale również może się pochwalić najbardziej obszernym ogrodem bazującym na tym gatunku. Znajduje się on w Keukenhof pod Lisse i rozciąga się na przestrzeni aż 32 hektarów. Choć rosną tam również inne rośliny, to właśnie tulipany niewątpliwie królują.
Symbolika tulipanów
By ułatwić sobie wybór, warto wiedzieć, co oznaczają tulipany w bukiecie. Żółte - optymizm, pomarańczowe - entuzjazm, różowe - troskę. Białe doskonale nadają się na przeprosiny albo na ślub, z kolei czerwone na każdą okazję, jeżeli tylko adresatką jest osoba, którą się szczerze kocha. By zyskać większą uniwersalność, wystarczy postawić na kolorystyczne mieszanki lub kwiaty o płatkach w kilku odcieniach.
Tulipany można znaleźć w licznych bukietach w naszej ofercie. Są to często kompozycje zawierające wyłącznie ten gatunek w jednej lub kilku wersjach kolorystycznych, ale mogą też stanowić ciekawy dodatek do róż, goździków lub hiacyntów.