Sezon na tulipany trwa w najlepsze. Mimo, iż kwiaty te głównie pojawią się w przydomowych ogródkach dopiero za ok. miesiąc, to już teraz możesz obdarować nimi bliską Ci osobę lub kupić je dla siebie jako ozdobę na przykład stołu w jadalni. Przeciętna żywotność takiego bukietu to 3 - 4 dni. Poniżej znajdziesz kilka rad, co zrobić, aby ten czas znacznie wydłużyć.
Warunki
Tulipany należą do delikatnych roślin, w związku z tym należy dokładnie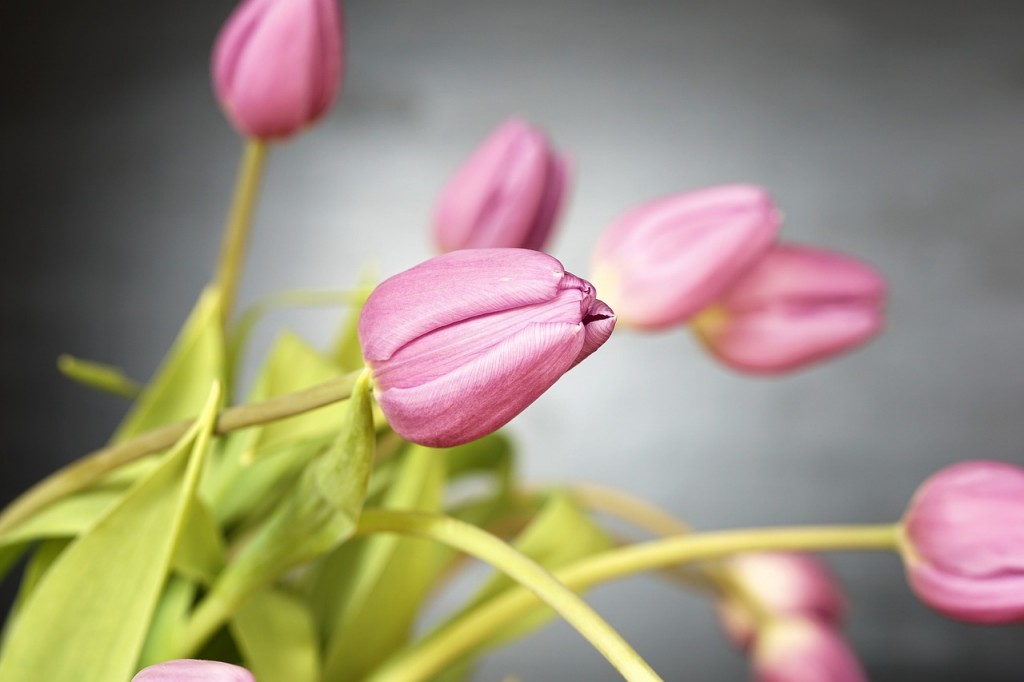 przeanalizować miejsce, w którym ma stanąć wazon. Kwiaty dobrze czują się w temperaturze pokojowej, nie może być dla nich zbyt zimno i zbyt gorąco, zatem nie ustawiaj ich na parapecie, ani w bliskim sąsiedztwie grzejnika. Unikaj także narażenia na przeciągi i systematycznych spadków słupka rtęci. Optymalny będzie na przykład stół lub ława w salonie czy jadalni. W kuchni natomiast warunki mogą być za trudne dla roślin, głównie przez rosnące ciepło i zmiany wilgoci podczas gotowania. Ponadto kruche łodygi źle znoszą kontakt z gorącą parą wodną.
Gdy znajdziesz już idealne miejsce dla swojego bukietu, koniecznie dokładnie umyj wazon, a najlepiej go wyparz - uważaj tylko na cienkie szkło, po zetknięciu z wrzątkiem może popękać i zrobić Ci krzywdę. Woda do kwiatów powinna być przegotowana i mieć temperaturę ok. 40 stopni Celsjusza. Zabieg ten powoduje usunięcie z cieczy powietrza, przez to minimalizuje się ryzyko wystąpienia blokady naczyń i spowolnienia pobierania wody.
Codzienna pielęgnacja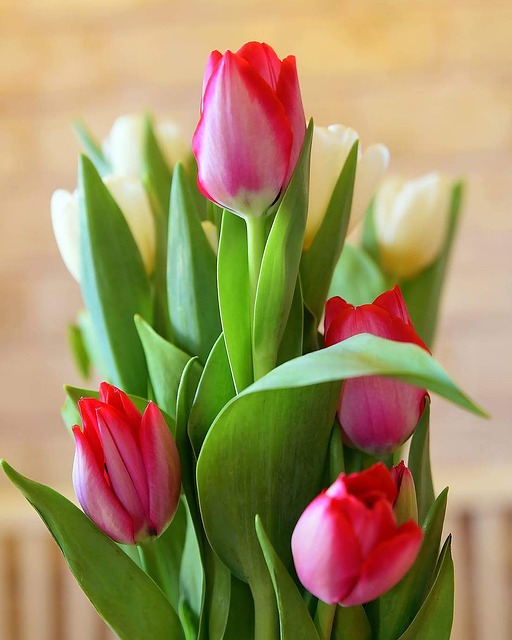 Wodę, w której stoją tulipany, powinno się wymieniać codziennie.  Ma to zasadniczy wpływ na trwałość kwiatów ciętych. Wymieniając ciecz codziennie ograniczamy rozwój mikroorganizmów, które zatykają wiązki przewodzące w pędach. Oprócz tego, co jakiś czas powinno się wykonać drobne nakłucia pod kątem 45 stopni na długości zanurzonej, sprawia to, że roślina zyskuje większą powierzchnię, zdolną do pobierania wody. Ponadto warto również przycinać końce kwiatów, dzięki temu bukiet będzie zwarty, bez zbutwiałych końców, hamuje to także rozwój pleśni. Dodatkowo należy przycinać liście zanurzone w wodzie, zatopione nie spełniają swoich funkcji i szybko zaczną gnić. Ciekawym trikiem na uratowanie już więdnących kwiatów jest przygotowanie ,,uzdrawiającej" mieszanki, do której będziesz potrzebować: wody, 2 łyżek octu i 2 łyżeczek cukru. Wystarczy jedynie zmieszać wszystkie komponenty, podciąć końce i włożyć pędy do przygotowanego wazonu. Dzięki węglowodanom dobrze rozpuszczonym w cieczy, mogą one zostać szybko przyswojone przez komórki roślinne i tym samym roślina może zostać łatwo odżywiona. Taki zabieg pomoże jej odzyskać zdrowy wygląd. Natomiast dla zmęczonych, lekko osłabionych np. transportem kwiatów, ratunkiem będzie zimna woda z kostkami lodu, niższa temperatura sprawi, że rośliny staną się bardziej sprężyste.
Takie zabiegi pomogą znacznie wydłużyć żywotność bukietu, zwłaszcza kompozycji z tulipanów, które z racji swojej kruchości potrzebują znacznie więcej uwagi od innych gatunków kwiatów. Po zastosowaniu wszystkich kroków, będzie można znacznie dłużej cieszyć się pięknymi, kolorowymi pąkami. Tak pielęgnowane tulipany postoją w Twoim mieszkaniu nawet 9 dni.