Dzień Matki to wyjątkowe święto, w którym wyrażamy naszą wdzięczność za trud włożony w wychowanie. Często z tej okazji wręczamy kwiaty, aby sprawić obdarowywanej mamie przyjemność, podziękować za obecność i wsparcie. Dobrym rozwiązaniem jest wybór tradycyjnego bukietu, który z pewnością się spodoba oraz trafi w poczucie estetyki każdej mamy! Jakie kwiaty wybrać i co dołączyć do ponadczasowej kompozycji? O tym poniżej.
Czerwone i różowe róże - tradycyjny bukiet na Dzień Matki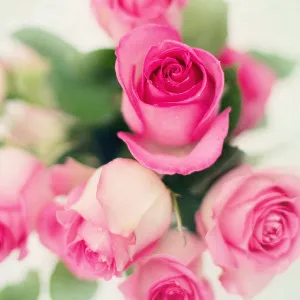 Róże to kwiaty najczęściej wybierane i lubiane przez każdą kobietę. Urzekają kolorem, zapachem oraz stanowią ozdobę dla niejednego wazonu. Różowe i czerwone róże to ponadczasowe kwiaty, które sprawdzą się w bukiecie dla mamy. Jak powinien on wyglądać? Przede wszystkim stawiamy na minimalizm - nadmiar ozdobnych wstążek i zbyt pstrokaty papier dekoracyjny mogą sprawić, że kompozycja straci urok oraz klasyczny charakter. Tradycyjny bukiet na Dzień Matki nie powinien zawierać takich dodatków. Jeżeli wybierzemy piękne i wypielęgnowane róże, to wszelkie udoskonalenia okażą się niepotrzebne.
Jeśli nie róże, to jakie kwiaty dla tradycjonalistki?
Istnieje wiele gatunków kwiatów, spośród których możemy wybrać odpowiednie do bukietu dla mamy. Warto kierować się nie tylko ich wyglądem, ale i symboliką, która może wyrażać życzenia. W tradycyjnym bukiecie na Dzień Matki bardzo dobrze sprawdzą się goździki - znak długiego życia, a także dobrego zdrowia. Kolejną propozycją na 26 maja są gerbery, które symbolizują szczęście, słońce oraz dobry nastrój. Tradycyjny bukiet z tych kwiatów wręczany w słoneczny, majowy dzień z pewnością zachwyci swoim wyglądem i wymową.
Bukiet dla mamy - co dołączyć?
Jeśli wiemy już z jakich kwiatów ma składać się bukiet dla mamy, warto przemyśleć kwestię dołączenia do niego drobnego dodatku. Do najczęstszych wyborów należą bombonierki z czekoladowymi pralinami lub kartki z życzeniami, jeśli nie możemy wręczyć kwiatów osobiście. Możemy wykazać się inwencją twórczą i napisać słowa uznania w formie krótkiego wiersza. Tradycyjny bukiet na Dzień Matki dzięki swojemu klasycznemu charakterowi zarówno zadowoli obdarowaną osobą, jak i nie odwróci uwagi od naszej kreatywności.
Wybór tradycyjnego bukietu na Dzień Matki wydaje się być rozwiązaniem doskonałym! Nie tylko możemy zlecić jego wykonanie kwiaciarni internetowej, która dostarczy go w wybrane miejsce, ale mamy też pewność, że spodoba się obdarowywanej osobie.