Słonecznik jest rośliną z rodziny astrowatych, która świetnie nadaje się do komponowania z nią bukietów w sezonie letnim, który właśnie trwa. Żółta barwa słonecznika pięknie współgra z zielenią łodyg i liści, a także z polnymi kwiatami.
Słonecznik w roli głównej letnich bukietów
W zależności od tego w jakim stylu ma być bukiet, w którym słonecznik odegra główną rolę dobierane są kwiaty dodatkowe. Jeżeli w bukiecie poza słonecznikiem znajdą się białe róże, gerbery i eukaliptus, to będzie on bardzo delikatny i kobiecy, w stylu glamour. Jeżeli jednak chcemy uzyskać bukiet rustykalny to świetnie sprawdzą się polne kwiaty, takie jak maki, niezapominajki, chabry bławatki, a nawet zboże. Piękne połączenie żółci, niebieskiego i pomarańczu da efekt łąki w ręku. W bukietach ślubnych króluje również połączenie żółci słonecznika z bielą chryzantem.
Sezon na słoneczniki
Wysiewu dokonuje się na wiosnę, na gruncie lub w doniczce. Słonecznik, jak sama nazwa wskazuje potrzebuje dużo słońca i mało wiatru. Szczególnie zalecane jest nawożenie dla jego zasilenia. Na pestki słonecznika trzeba poczekać do lipca i można się nimi cieszyć aż do października. Jeśli jednak bardziej interesują nas słoneczniki ozdobne, to idealnym gatunkiem będą Abendsonne, Prado Red lub Sonnengold. Takie można posadzić w przydomowych rabatach, pergolach, altanach lub przy płocie lub murku.
Słonecznikowe ciekawostki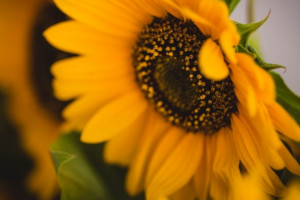 Słonecznik pochodzi z Ameryki Północnej, z Meksyku i jest on uprawiany już od 3000 r. p. n. e. A czy wiesz, że słonecznik to wyjątkowy kwiat, który zawsze odwraca swoją "głowę" w stronę słońca? Bez względu jak go ustawisz on i tak odwróci się, aby łapać promienie słoneczne, tak więc nie bez przyczyny został nazwany słonecznikiem. Średnica kwiatu dochodzi nawet do 30 centymetrów. Produkuje się z niego miód, który pozyskiwany jest z nektaru. Charakteryzuje się delikatnym smakiem i dobrze rozpuszcza się w wodzie. Jeżeli zmagasz się z problemami skórnymi, to miód słonecznikowy może okazać się świetnym lekarstwem. Ponadto słoneczniki usuwają toksyny, takie jak uran, arsen i ołów. W czasie niwelowania toksyn ze stawów powstałych po wybuchu elektrowni w Czarnobylu używano właśnie słoneczników. Podobne zabiegi wykonywano w Fukushimie po katastrofie nuklearnej. Kwiaty te osiągają od 2 do 3 metrów wysokości, jednak najwyższy słonecznik na świecie liczył aż 7 metrów 75 centymetrów i został on wyhodowany w Holandii w 1986 roku.
Słonecznik to nie tylko piękny kwiat przywodzący na myśl lato, ale również dobre lekarstwo i materiał na pyszny miód. Bukiety ze słonecznikiem nadadzą pomieszczeniom charakteru i lekkości, a ogród nabierze promiennego wyglądu.