Nie masz pomysłu na prezent? Szukasz czegoś, co nie znudzi się dziecku po pięciu minutach zabawy? Zamiast kolejnej, plastikowej zabawki postaw na kreatywność. Tablica manipulacyjna to idealny pomysł na prezent. Rozwija wyobraźnię, zaspokaja ciekawość świata i uczy dzieci funkcjonowania podstawowych przedmiotów w życiu codziennym.
Pomysł na prezent rozwijający kreatywność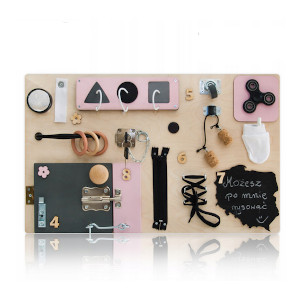 Tablica manipulacyjna powstała w duchu Metody Montessori. Opracowała ją Maria Montessori, blisko 100 lat temu! Polega ona na samodzielnej nauce dziecka, które wykorzystuje przedmioty, których potencjalnie nie uznalibyśmy za zabawki. Wszelkie narzędzia, o różnych teksturach dostosowane do rozmiarów dziecka, będą sprawować się idealnie. Dziecko do 6. roku życia poznaje świat wszystkimi zmysłami, dlatego szczególnie ważne jest, aby zachęcić je do eksplorowania wszystkich możliwości tablicy manipulacyjnej. Niech poznaje strukturę kartonu, mechanizm zamka do drzwi czy ruch poszczególnych figur geometrycznych. Pozwólmy dziecku wybrać, czym chce się bawić! Dzięki temu maluch ma szansę rozwinąć różne umiejętności na wielu płaszczyznach. Pobudzenie wyobraźni i kreatywności, która w przyszłości może rzutować na osiąganie sukcesów w wielu dziedzinach życia, jest kluczowym elementem metody Marii Montessori. Płynie z niej także wiele innych korzyści:
● szybsze i efektywniejsze uczenie się dziecka,
● rozwijanie wielu obszarów zainteresowań,
● nauka samodzielności,
● angażowanie w codziennie obowiązki,
● zachęcenie do poznawania świata.
Dlaczego tablica manipulacyjna?
Najpowszechniejszą pomocą edukacyjną jest właśnie ten rodzaj zabawki. Dzięki różnym elementom produkt jest w stanie zaspokoić nawet najbardziej wymagającego malucha. Tablice dostępne w naszym sklepie można nabyć w wersji dla chłopców bądź dziewczynek. Zawierają m.in. różnego rodzaje zamki do drzwi, co rozwija spostrzegawczość. Elementy ruszające się poprawiają motorykę dzieci i wyostrzają reakcje na bodźce. Oprócz tego na tablicy znajdują się kołki, korki, sznurówka, magnes, rzep czy miejsce do pisania kredą. Nawet najmniejsze przedmioty mogą sprawić, że dziecko będzie bawić się godzinami.
Interaktywna zabawka z wieloma ruchomymi elementami sprawi nie tylko ogromną radość z prezentu. Tablica manipulacyjna jest przede wszystkim pożyteczną pomocą edukacyjną w rozwoju dziecka. Martwisz się, że zabawka będzie nieodpowiednia do wieku malucha? Nic bardziej mylnego! To właśnie wczesne miesiące i lata dziecka są kluczowe w rozwoju umiejętności. Dlatego jeżeli do tej pory nie byłeś zdecydowany na ten rodzaj prezentu, to już wiesz dlaczego warto wypróbować ten nietuzinkowy rodzaj podarunku dla najmłodszych.