Choć w kulturze chrześcijańskiej Wielkanoc jest niewątpliwie świętem mającym największe znaczenie, to jednak nie jest ona tak celebrowana jak Boże Narodzenie. Tradycja kupowania prezentów dla najbliższych nie jest tak głęboko zakorzeniona, jednak zdecydowana większość rodzin obdarowuje się skromnymi podarunkami. Jest to dobra forma okazania pamięci oraz sprawienia radości nawet najmniejszym świątecznym gestem.
Wielkanocne wypieki
Prezent wielkanocny nie musi być drogi i ekskluzywny - wystarczy coś, dzięki czemu nasi bliscy poczują się docenieni i kochani. Z Wielkanocą ściśle związane są tradycyjne wypieki, ta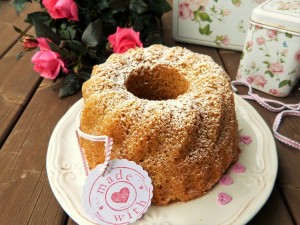 kie jak mazurek czy babka, dlatego własnoręcznie przygotowany placek może zachwycić niejednego smakosza przy niedzielnym stole. Niestety, czasem natłok przedświątecznych obowiązków uniemożliwia poświęcenie czasu na pieczenie, dlatego naszych bliskich możemy zaskoczyć pięknym stroikiem, który zachwyci świątecznymi motywami oraz przepysznym ciastem. W przypadku posiadania talentu plastycznego doskonałym rozwiązaniem może być chociażby dołączony do upominku własnoręcznie zrobiony kalendarz ze zdjęciami wszystkich członków rodziny. Taką niespodziankę doceni każdy, a szczególnie dziadkowie, którzy będą mogli codziennie patrzeć na uśmiechnięte twarze najważniejszych dla nich osób.
Słodka niespodzianka
Wielkanocny szał ogarnął już wszystkie sklepy - od tych osiedlowych, aż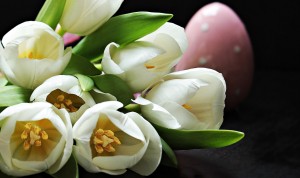 po wielkie supermarkety - a w nich niezliczona ilość łakoci, nie tylko dla dzieci, ale także dorosłych. Nie ma wątpliwości - słodycze lubi każdy, niezależnie od wieku, dlatego będą one bardzo dobrym prezentem na Wielkanoc. Problem pojawia się w momencie, w którym nie mamy pomysłu na zapakowanie słodkości w atrakcyjny sposób, a chcielibyśmy uniknąć przekazywania ich w reklamówce z marketu. Na świątecznym stole pięknie będą wyglądać estetyczne i praktyczne koszyki, wypełnione po brzegi ulubionymi łakociami. Po skonsumowaniu całej zawartości, może on posłużyć do przechowywania zabawek czy kredek. Dla starszych miłośników słodyczy, poza czekoladą, znajdzie się odrobina dobrego alkoholu, który umili wieczór spędzony ze znajomymi czy rodziną.
Kwiatowe stroiki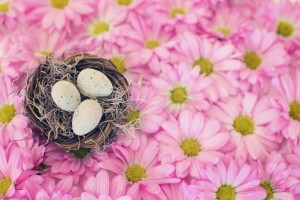 Najlepszy prezent to taki, który wpasuje się w upodobania osoby obdarowanej, dlatego wielkanocnym podarunkiem śmiało może być dobra książka, płyta ulubionego zespołu czy modne ubrania. Często bywa jednak tak, że podczas przygotowań zaczyna brakować czasu na szukanie czegoś odpowiedniego, dlatego ciekawym pomysłem na niespodziankę może być coś związanego stricte z obchodzonym świętem, jak np. wielkanocny bukiet czy stroik przyozdobiony kolorowymi kwiatami. Taki upominek jest niezwykle uniwersalny, ponieważ spodoba się każdemu, wprowadzając do mieszkania wiosenny klimat oraz poprawiając humor wszystkim domownikom.
Należy pamiętać, że kupno lub przygotowanie prezentów wielkanocnych nie jest obowiązkiem, lecz ma po prostu sprawiać przyjemność zarówno obdarowanemu, jak i osobie wręczającej podarek. Wywołanie uśmiechu na twarzy drugiej osoby powinno wynagrodzić wszystkie przedświąteczne starania, a Wielkanoc spędzona w rodzinnej atmosferze będzie okazją do odpoczęcia i naładowania baterii przed nadejściem lata.