Kwiatowym symbolem nadchodzącego lata są bez wątpienia słoneczniki. Ich żółte płatki i kształt kwiatostanu przypominają o świecącym słońcu w najgorętszej porze roku. W ciągu dnia można zauważyć jak śledzą jego drogę po niebie. Kwiaty te kojarzą się głównie z pięknym wiejskim krajobrazem, jednak dawniej były także ozdobą przypałacowych ogrodów.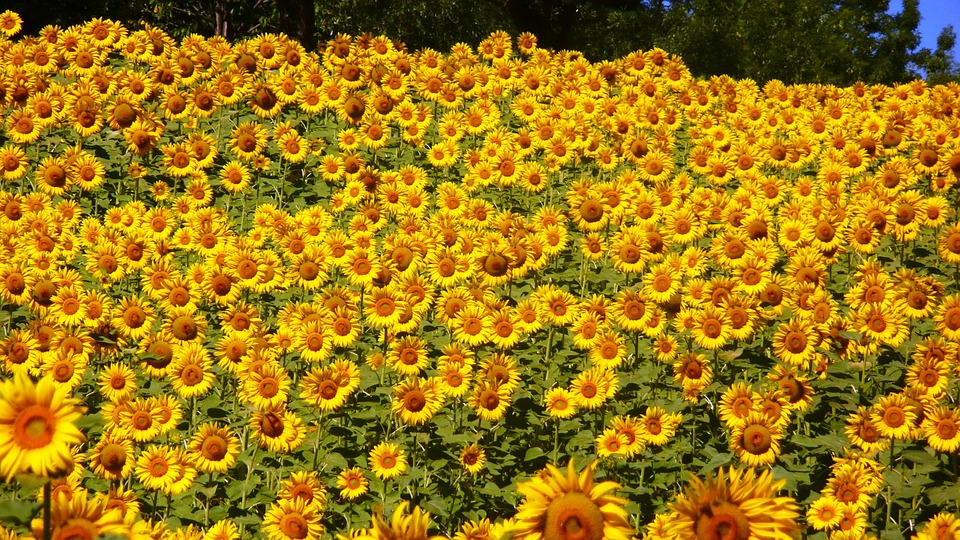 Wybierając kwiaty warto zapoznać się z ich symboliką. W przypadku słoneczników jest to ułatwione zadanie, ponieważ kojarzą się głównie z miłym, sympatycznym gestem w stronę koleżanki czy też kolegi. Szukając dokładnego znaczenia tych kwiatów można natrafić na wiele, głównie sprzecznych opisów. Od namiętności i szaleńczego zaślepienia, przez szczęście i zabawę aż do pychy czy arogancji. W potocznej opinii pozostają one po prostu oznaką radości i uśmiechu.
Słoneczniki dzięki swojemu wyglądowi pojawiają się w wielu motywach dekoracyjnych. Doskonale ożywiają wnętrza nadając im ciepłego i przytulnego charakteru. Można spotkać je na obrazach, plakatach, fototapetach, filiżankach, kubkach i innych akcesoriach.
Nie można nie wspomnieć też o dziełach sztuki powstałych przez inspirację tymi kwiatami. Najsłynniejszym przykładem jest seria obrazów namalowana przez Vincenta van Gogha pt. Słoneczniki. Składa się ona z 11 egzemplarzy i jest jednym z najbardziej rozpoznawalnych arcydzieł na świecie. Równie częstym motywem są pola słoneczników, które ciągnąc się po horyzont sprawiają niesamowite wrażenie, które kusi swym pięknem artystów malarzy czy fotografów. Pola te spotkać można wszędzie, ponieważ kwiaty potrzebują jedynie słońca i wilgotnej ziemi.
W XVI wieku słonecznik trafił do Europy jako roślina uprawna, z której wytwarzana była kawa i kasza, dopiero 300 lat później zaczęto produkować z niej olej. Teraz kwiaty sadzi się głównie dla walorów estetycznych i nasion, które można jeść na wiele sposobów. Są one jednymi z najzdrowszych produktów na świecie, poprawiają koncentrację, wzmacniają kości i dbają o cerę. Idealnie pasują do letnich sałatek czy jako dodatek do pieczywa.
Kwiaty słoneczników to także wspaniały prezent dla kogoś wyjątkowego. Warto w czasie lata obdarować bliską osobę słonecznikowym uśmiechem w postaci pięknego bukietu, który z pewnością poprawi humor i wywoła pozytywną reakcję.