Nic nie wprawia w dobry nastrój tak bardzo, jak odrobina słońca. Uwielbiamy czuć ciepłe promienie na swojej skórze, a wczesne wstawanie jest dużo łatwiejsze, gdy światło przedziera się przez żaluzje. Słońca, podobnie jak ludzie, potrzebują też kwiaty, ale chyba najbardziej uwielbia je ten gatunek, którego nazwa ściśle do niego nawiązuje - mowa o słonecznikach - a obok nich trudno przejść obojętnie...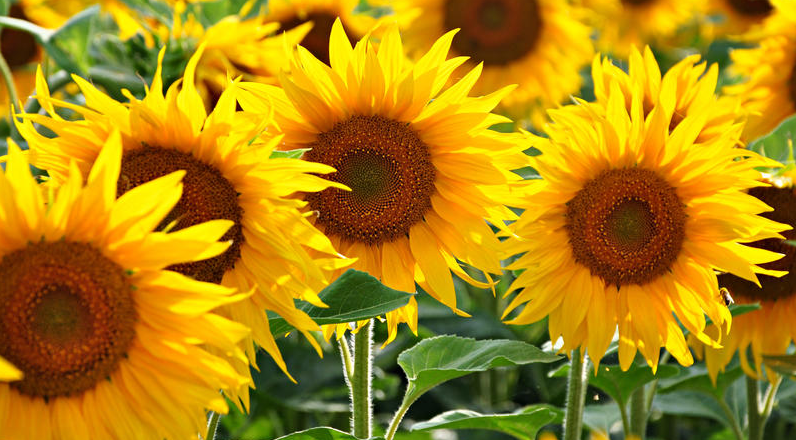 Chociaż przywodzą na myśl wiejską sielankę, to ze względu na ich okazałość i utożsamianie z władczością, dekorowano nimi dwory królewskie. Są inspiracją dla twórców sztuki, wielką fascynacją van Gogh'a i motywem przywoływanym w wierszach. Wcale nie pochodzą z Polski, jednak zadomowiły się tu na dobre. Pola słonecznikowe zapierają dech w piersiach, ale już kilka tych wyjątkowych kwiatów wystarczy, by poczuć świeży przypływ energii. Kolorowi żółtemu, który dominuje w tym kwiecie, przypisuje się wywoływanie poczucia radości i optymizmu. Nic więc dziwnego, że słoneczniki nastrajają pozytywnie. Długie i solidne łodygi okraszone pojedynczymi listkami i zakończone okazałymi kwiatami, nadadzą się idealnie jako ozdoba domu, ogrodu czy bukiet ślubny. Można je mieszać z innymi kwiatami, tworząc ciekawe kompozycje, jednak niezależnie od tego z czym zostaną zestawione, zawsze będą górować nad innymi roślinami umieszczonymi w bukiecie.
Niestety są to kwiaty sezonowe, dlatego poza okresem ich występowania, pozostaje odwołanie się do elementów dekoracyjnych z motywem słonecznika. Ozdobą dla domu mogą być popularne naklejki ścienne, albo subtelne obrazy wprowadzające element optymistyczny w wystroju wnętrza. Dla osób lubiących oryginalne stylizacje może okazać się równie inspirujący co dla artystów. Odzież z printem lub słonecznikowa biżuteria, pomoże przetrwać okres, w którym świeże kwiaty są trudno dostępne.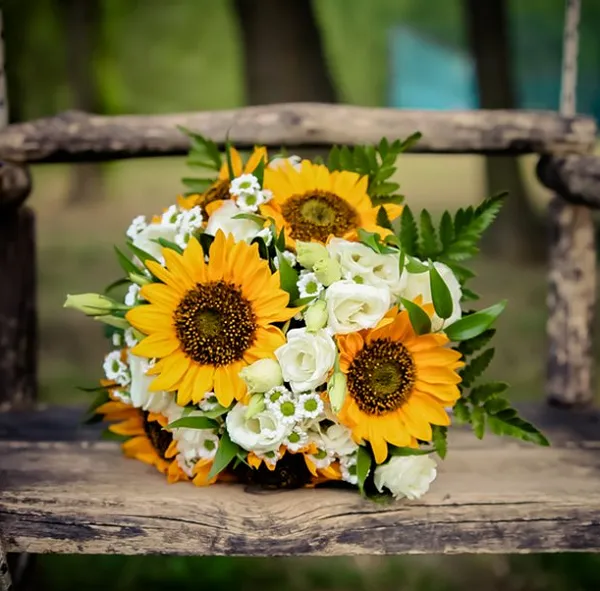 Patrzenie na ładne rzeczy sprawia przyjemność i wprowadza w dobry nastrój. Szczególnie miłe jest poczucie bliskości z naturą, które zapewniają świeże, pachnące kwiaty. Żywe barwy słonecznika napawają optymizmem, dlatego zawsze będą dobrym rozwiązaniem dla kogoś chcącego sprawić przyjemność bliskiej osobie. Dostarczone osobiście lub za naszym pośrednictwem, będą na pewno wielką niespodzianką. Same prezentują się dumnie, a ich nieustanne podążanie za położeniem słońca, tylko wzmaga fascynację.