Sezon na dynie w Polsce trwa od lipca do pierwszych przymrozków, jednak jego szczytowy okres przypada na październik. Warzywa są wówczas dojrzałe i gotowe do zbierania, warto zaznaczyć ich zdrowotne właściwości, takie jak: obniżanie cholesterolu czy pomoc w redukcji tkanki tłuszczowej. Z ich miąższu możesz przygotować wiele wspaniałych potraw. Doskonałą zupę z dodatkiem imbiru, pieczoną dynię, a nawet ciasto! Przepisów znajdziesz bez liku.
DIY - Do It Yourself
Kiedy już zabierzesz się za przygotowania, wydrążysz środek, pamiętaj, aby nie wyrzucać pustego warzywa! Posłuży Ci za podstawę do stworzenia jesiennych dekoracji do mieszkania oraz ogrodu! Dzięki projektom DIY wyczarujesz niepowtarzalne, oryginalne przedmioty, których z pewnością pozazdroszczą Ci wszyscy goście. Dlaczego wybrać akurat dynię? Ponieważ stała się w ostatnich latach swoistym symbolem jesieni, ze względu na swój piękny, pomarańczowy kolor, który idealnie komponuje się ze złocistym krajobrazem wokół. Jakie więc ozdoby możesz wykonać w domowych warunkach? Poniżej znajdziesz kilka pomysłów.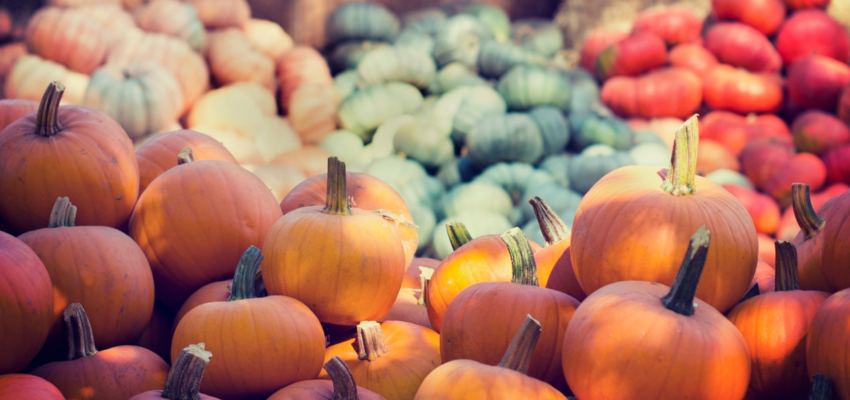 Wazon, stroik a może świecznik?
Wycinanie dyni zacznij od góry, wytnij otwór małym nożykiem, spróbuj zrobić to delikatnie, tak aby nie uszkodzić krawędzi. Następnie większą łyżką lub specjalnym zestawem do drążenia wyjmij cały miąższ i odłóż go do miseczki - na pewno go wykorzystasz. W ten sposób podstawa do wszystkich dekoracji DIY jest gotowa. Możesz już teraz nalać wody, a także włożyć do warzywnego naczynia świeże kwiaty. Z takiego połączenia powstanie piękny, minimalistyczny wazon. Jeśli chcesz go jeszcze urozmaicić, przygotuj serwetkę, wytnij jej środek i przyklej do brzegów dyni.
Drugim pomysłem jest donica na kwiaty. Wystarczy, że zamiast wody, wsypiesz do środka ziemię i wsadzisz wybrane rośliny. Które będą najlepiej dopełniały pomarańczowe odcienie dyni? Z jesiennymi ozdobami najkorzystniej komponują się delikatne, fioletowe wrzosy, czerwone, pełne astry oraz promienne, żółte słoneczniki.
Kolejną ciekawą propozycją DIY jest dyniowy stroik. W tym przypadku użyj mniejszych warzyw, zaopatrz się w specjalną farbę w sprayu i pomaluj je. Następnie przygotuj elementy kompozycji, mogą to być suche liście, jarzębina, szyszki, kasztany - właściwie wszystko co kojarzy Ci się z jesienią. Poszczególne elementy powtykaj w gąbkę, na nich połóż wcześniej przygotowane małe dynie, a całość możesz w kilku miejscach utrwalić klejem. Et voila! Elegancka ozdoba stołu gotowa i z pewnością nikt nie przejdzie obok niej obojętnie.
Pomysłem, który wymaga już odrobinę więcej czasu jest przygotowanie świecznika. W wydrążonej dyni, wybierz jedną stroną, która będzie frontem, później powycinaj w tym miejscu wzory lub małe okienko. Do środka włóż małą świeczkę lub podgrzewacz typu tea light. Pamiętaj, żeby nie przykrywać naczynia, gdy zapalisz knot.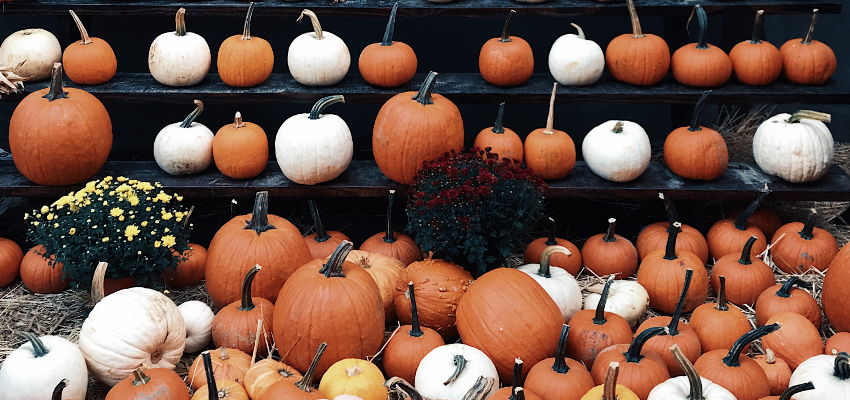 Idealny nastrój
Kiedy będziesz planować dyniowe dekoracje, przygotuj takie kwiaty i kolory, które najlepiej komponują się z październikowym wystrojem. Barwy pasujące do ciepłych pomarańczy to przede wszystkim czerwienie, żółcie, fiolety oraz przygaszone zielenie. Sięgając po dekoracje złożone z powyższych komponentów, stworzysz zarówno w domu, jak i ogrodzie przytulny, jesienny oraz ciepły klimat. Z nim nawet szaruga nie będzie Ci straszna!