Fenomen kwiatów polega na tym, że są one prezentem odpowiednim niemal na każdą okazję. Adresatami takiego upominku mogą być wszyscy, niezależnie od wieku czy płci. Zaś samo wręczanie kwiatów jest gestem niezwykle miłym. Zanim jednak dokona się ich wyboru warto pamiętać o kilku istotnych zasadach, które pomogą uniknąć niezręcznej sytuacji.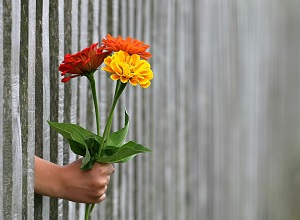 Podstawową zasadą, którą trzeba się kierować przy wyborze bukietu jest określenie odpowiedniej liczby kwiatów, jaka ma się w nim znaleźć. Warto pamiętać, że kwiaty cięte wręcza się w liczbie nieparzystej, co jest spowodowane głównie względami estetycznymi. Bowiem o wiele ładniej prezentują się trzy kwiaty niż cztery czy siedem niż sześć. Przy większej ich ilości stosowanie się do tej zasady nie jest już konieczne, gdyż ich suma nie jest dostrzegalna na pierwszy rzut oka. Można także wręczyć pojedynczy kwiat, odpowiednio ozdobiony - w tym przypadku lepiej postawić na kwiaty o stabilnej gałązce - tu przykładem może być róża, która jako pojedynczy kwiat prezentuje się efektowniej niż goździk. Chcąc sprawić komuś kwiatowy prezent należy pamiętać, by w bukiecie nie znalazła się parzysta liczba kwiatów, gdyż ta zarezerwowana jest na uroczystości żałobne. Trzeba także uważać, aby nie wręczyć kwiatów kojarzących się typowo z okolicznościami pogrzebowymi. Do takich należą z całą pewnością kalie i chryzantemy. Również wręczenie kwiatów sztucznych i ususzonych uznawane jest za nietakt.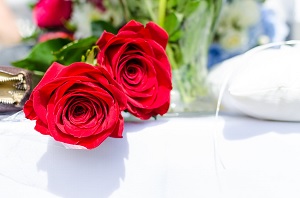 Przy florystycznych kompozycjach dużą rolę, jak nie główną, odgrywają kolory kwiatów. ?Mowa kwiatów? przydaje się szczególnie wtedy, kiedy samemu ciężko jest wyrazić uczucia. Tu także należy pamiętać o dostosowaniu kolorystyki do danej okazji. Jeśli jest to wizyta u pani domu, lepiej jest nie decydować się na czerwone kwiaty. Na wszelkie uroczystości typu narodziny dziecka, chrzest, komunia czy ślub dobrze wybrać te w kolorze białym.
Oprócz kwiatów ciętych można zdecydować się na kwiaty doniczkowe. Jednak ich wręczenie nie zawsze jest stosowne. Najlepiej podarować je komuś, kogo zna się bardzo dobrze i dla kogo późniejsza pielęgnacja rośliny nie stanowi problemu. Rośliny doniczkowe świetnie sprawdzą się dla tych, którzy się dopiero urządzają.
Wybierając się do kogoś w odwiedziny w parze, warto pamiętać, że to mężczyzna powinien wręczyć bukiet pani domu. Mając dodatkowo podarek (inny niż alkohol), obowiązek jego wręczenia gospodarzom domu należy już do kobiety. Co do sztuki wręczania kwiatów, wiele osób zastanawia się, czy obdarowywanie nimi mężczyzn jest taktowne. Wręczanie kwiatów mężczyźnie jako dowód uznania czy z wyrazami szacunku jest jak najbardziej na miejscu.
Mimo ogólnie obowiązujących zasad wręczania kwiatów, nierzadko popełniane są błędy. Jednym z najczęstszych jest podawanie bukietów łodygami do góry. Kwiaty zawsze powinny być przekazywane kwiatami do góry. Z kolei, jeśli bukiet owinięty jest w papier, należy pamiętać o jego ściągnięciu. Nie trzeba rozpakowywać kwiatów, które są owinięte w folię lub siatkę - te zwykle stanowią ozdobę do bukietu. Nie tylko forma, ale miejsce wręczania kwiatów ma znaczenie. Warto także pamiętać, że kwiatów nie przekazuje się na progu domu ani na korytarzu.
W Polsce, kwiaty wręcza się niemal na każdą okazję. To najbardziej taktowny prezent, jaki można podarować drugiej osobie. Niestety nie zawsze istnieje możliwość osobistego wręczenia kwiatów. W tej sytuacji warto to uczynić za pośrednictwem kwiaciarni internetowej, która dostarczy kwiaty pod wskazany adres. Do samego bukietu wskazane jest dołączyć bilecik z życzeniami i podpisem, by adresat wiedział, kto sprawił mu kwiatową niespodziankę.