Dzień Matki to idealna okazja, aby wyrazić wdzięczność mamie i podziękować jej za wszystkie lata opieki oraz wspierania w trudnych chwilach. Najlepszy prezent to kwiaty, które są w stanie przekazać wszystkie emocje obdarowywanej osobie. Termin tego święta, które wypada 26 maja, pozwala na stworzenie pięknego, wiosennego bukietu. Sprawdź jakie kwiaty wybrać, aby sprawić największą przyjemność mamie.
Bukiet Impresja dla mamy
Bukiet Impresja to kompozycja kwiatowa, która cechuje się niezwykłą lekkością, wspaniałym wyglądem i niepowtarzalną kolorystyką. Połączenie róż, agapantów, margaretek, eustomy oraz limonium w pastelowych barwach, to strzał w dziesiątkę. Takim bukietem zdecydowanie przekaże się mamie, jak bardzo jest ważna i jak wiele znaczy.
Kolorowy Ogród na Dzień Matki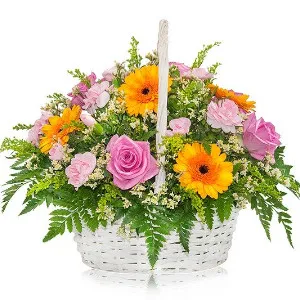 Szukając czegoś niepowtarzalnego, warto zdecydować się na kompozycję kwiatową Kolorowy Ogród w małym, uroczym koszyku. To idealne rozwiązanie na prezent dla mam, które kochają barwne ogrody. W bukiecie znajdują się róże, gerbery, goździki oraz limonium w żywych kolorach, które dodadzą pozytywnego akcentu w ciągu dnia. Ich zapach będzie unosił się w całym pomieszczeniu, dzięki czemu prezent dla mamy zapadnie w pamięć na długo.
Powiew Wiosny z okazji Dnia Mamy
Blado różowa róża oraz eustoma to niezwykle wiosenne połączenie, które przeniesie myślami obdarowaną osobę w najpiękniejsze miejsce, jakie jest w stanie sobie wyobrazić. Niezwykły zapach, jasne barwy i wspaniałe zdobienia to prezent idealny dla kobiety czułej, uśmiechniętej i pogodnej. Sprawi jej on nieopisaną radość, a także przekaże wszystkie emocje, które chcemy przekazać mamom z okazji Dnia Mamy.
Prawda jest taka, że niezależnie od wybranego bukietu, wzruszy on mamę z okazji jej święta. Warto także pamiętać o możliwości wysłania kwiatów pod wskazany adres, gdy niestety nie ma szans spotkać się w Dzień Matki ze względu na dzielącą odległość. Do kwiatów najlepiej jest dołączyć bilecik, w którym złoży się życzenia prosto z serca. Cały proces jest niezwykle łatwy, a szczęście mamy gwarantowane.