Kiedy po raz pierwszy odwiedza się noworodka po wyjściu ze szpitala, to towarzyszą temu spotkaniu niesamowite emocje. Prezent dla dziecka jest zatem czymś nieodłącznym - wypada powitać maleństwo prezentem, który wyrazi radość. Przyjście z pustymi rękami byłoby dużym faux pas. Co jednak podarować noworodkowi, który ma kilka dni lub tygodni? Poniżej znajdziecie dwa pomysły na prezent dla dziecka - zarówno chłopca, jak i dziewczynki.
Dziewczęca niespodzianka dla noworodka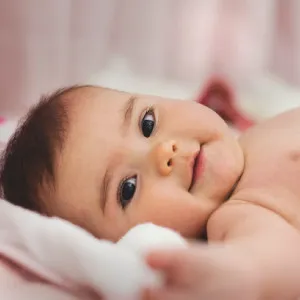 Prezent dla noworodka ma znaczenie czysto symboliczne - wiadomo, że maleństwo nie wykorzysta go do zabaw, ponieważ przez większość czasu odpoczywa. Dlatego dobrze, jeśli prezent jest jednocześnie ładną ozdobą, ale i ma praktyczne zastosowanie. Takie połączenie brzmi nieprawdopodobnie idealnie, ale jak najbardziej jest możliwe do osiągnięcia. Co można sprezentować małej dziewczynce, kierując się tą zasadą? Doskonałym rozwiązaniem będzie tort z pieluszek z różowym słonikiem, przewiązany wstążkami w tym samym kolorze. Zamiast wisienki posiada on złotą koronę, która przyozdabia podarunek dla małej księżniczki. Prezent dla noworodka może stać w pokoiku i stanowić ozdobę, ponieważ dzięki swojej formie oraz barwom doskonale udekoruje dziewczęcy kącik. Jego zalety docenią z pewnością rodzice. Tort zbudowany jest z mnóstwa pampersów, które na pewno okażą się bardzo przydatne.
Prezent dla małego chłopca
Prezent dla noworodka to prawdziwe wyzwanie. Co można podarować małemu chłopcu? Bardzo przydatnym rozwiązaniem będą śpioszki w niebieskim kolorze. Nie muszą być one na pierwsze dni życia. Nieco większe ubranko rodzice wykorzystają w późniejszym czasie. Dobrym uzupełnieniem tego prezentu okaże się tort z pieluszek z niebieskim słonikiem. Maskotka zostanie z dzieckiem na kolejne miesiące, a może nawet lata życia, natomiast pampersy nieco odciążą finansowo młodych rodziców. Upominek ten różni się od prezentu dla dziewczynki kolorystyką, ponieważ utrzymany jest w błękitnym kolorze. Kompozycję cechuje użyteczność i nowoczesność. Zazwyczaj prezenty dla noworodków są bardzo tendencyjne, co odbiera im istotny element zaskoczenia. Z pieluchowymi torcikami nie ma mowy o braku niespodzianki!
Pierwsze odwiedziny to bardzo ważny dzień i spotkanie z małym człowiekiem, który rozpoczyna życie. Warto wybrać przemyślany prezent, który posiada zarówno walory estetyczne, jak i praktyczne zastosowanie.