Kiedy za oknem pojawia się piękny, biały puch, ulice i galerie handlowe rozświetlają wielobarwne lampki, a wszędzie słychać nastrojowe świąteczne melodie to znak, że zbliża się Boże Narodzenie. Kolorowe dekoracje są niezbędnym elementem tworzącym magiczną atmosferę tych wyjątkowych dni. W Święta centralne miejsce w każdym domu zajmuje udekorowane drzewko. Równie popularną bożonarodzeniową dekoracją, która coraz częściej zdobi nasze domy w świątecznym okresie jest wilczomlecz piękny (poinsecja) bardziej znany jako Gwiazda Betlejemska.
Na temat tej niezwykłej rośliny powstało wiele legend i ciekawych historii. Aztekowie nazywali ją "płonącym kwiatem" i twierdzili, że jej piękne czerwone liście (tak, właśnie liście - kwiaty poinsecji są drobne, zredukowane, a to właśnie okalające je liście pełnią funkcję ozdobną) zabarwione są krwią bogini, której serce pękło z powodu niespełnionej miłości. Meksykańska legenda natomiast opowiada o dziewczynce, która bardzo chciała podarować nowo narodzonemu Jezusowi wyjątkowy prezent, ale nie było jej stać na okazałą, drogocenną wiązankę. Wiedziała jednak, że dla Dzieciątka bardziej od materialnej wartości upominku liczą się szczere chęci obdarowującego i dlatego postanowiła wręczyć mu prosty bukiet zielonych liści. Ku zaskoczeniu wszystkich, kiedy przyniosła swój podarunek do kościoła, liście zaczęły nabierać intensywnych czerwonych i zielonych kolorów i przemieniły się w kwiat, który znamy dziś pod nazwą Gwiazda Betlejemska. Meksykanie od tej chwili zaczęli nazywać tę roślinę "kwiatem Bożego Narodzenia", a ozdabianie nią mieszkań włączyli do świątecznych tradycji.
Wilczomlecz piękny pochodzi z Ameryki Środkowej, gdzie rośnie jako krzew, który może osiągnąć wysokość nawet 4 metrów. Nazwa poinsecja pochodzi od nazwiska amerykańskiego ambasadora z Meksyku, doktora i pasjonata botaniki - Joela Poinsetta, który zauroczony tą rośliną sprowadził ją w XIX wieku do USA. Do Europy przywędrowała razem z przyrodnikiem Alexandrem von Humboldtem, który przywiózł ją ze swojej podróży do Stanów. Niezwykłą światową karierę poinsecja zawdzięcza Paulowi Ecke, niemieckiemu emigrantowi, który osiedlił się w Ameryce i w XX wieku zaczął uprawiać tę roślinę i sprzedawać jako kwiaty cięte w okresie świątecznym. Z czasem zaczęto też hodować Gwiazdę Betlejemską w formie rośliny doniczkowej, a dzięki osiągnięciom niemieckich hodowców kwiat stał się bardziej odporny na ciepło, dzięki czemu dłużej utrzymuje się w warunkach panujących w domach i mieszkaniach.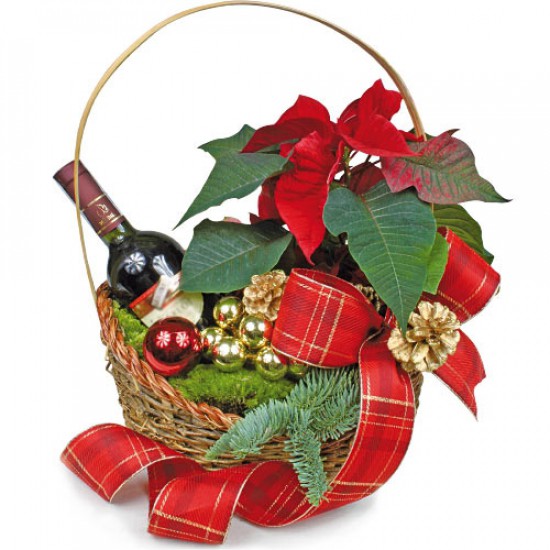 Dziś poinsecja jest jedną z najbardziej znanych roślin doniczkowych. Występuje w ponad stu odmianach, w różnych kolorach, kształtach i rozmiarach. Istnieją poinsecje białe, kremowe, w kolorze cytryny, różu czy fioletu, z zygzakowato wykończonymi bądź karbowanymi liśćmi. Z uwagi na tak dużą różnorodność Gwiazdę Betlejemską można idealnie dopasować do charakteru każdego wnętrza, które chcemy nią udekorować. Doskonale nada się też do ozdobienia wigilijnego stołu, a nawet choinki, a ze względu na związaną z nią głęboką symbolikę, jest doskonałą propozycją na świąteczny prezent - także ten wysłany za pośrednictwem Poczty Kwiatowej?.
W okresie Bożego Narodzenia ta niezwykła roślina z pewnością pomoże stworzyć magiczną atmosferę w każdym domu, a odpowiednia pielęgnacja, która wbrew pozorom nie jest szczególnie skomplikowana, pozwoli cieszyć się magią Świąt znacznie dłużej niż tylko przez kilka grudniowych dni. Żeby poinsecja jak najdłużej zachowała swoją niepowtarzalną urodę należy tylko pamiętać, że jest to kwiat, który lubi wilgoć i nie najlepiej znosi wysokie temperatury. Powinna być więc przechowywana w temperaturze około 21 stopni i dość często podlewana.
Jak widać, nie tylko choinka może zdobić dom w czasie Bożego Narodzenia. Doskonałą alternatywą bądź pięknym dodatkiem do świątecznego drzewka będą kompozycje, w których główną rolę zagra poinsecja.