Margaretki - urocze, dziewczęce i delikatne! Nic więc dziwnego, że tak kochamy wszelkie kompozycje, w których się znajdują. Dzisiaj przegląd bukietów z myślą o fanach właśnie wskazanych roślin.
Wyraź uczucia z pomoca kwiatów
Czasem ciężko jest nam powiedzieć o tym, co rzeczywiście czujemy względem drugiej osoby. I w takim okolicznościach bez wątpienia świetnie sprawdzą się cudowne kwiaty! Na myśli mamy tutaj na myśli dokładniej jedyną w swoim rodzaju kompozycję Kocham Cię. Znajdziemy w niej klasyczne czerwone róże, które uznawane są za symbol gorącej miłości, lecz świeżości dodają tu jedyne w swoim rodzaju margaretki,a także gerbery. W zestawieniu z uroczą zielenią dekoracyjna otrzymujemy świeże rozwiązanie, które świetnie sprawdzi się podarowane ważnej osobie!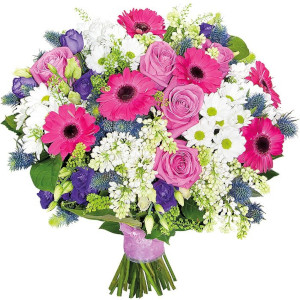 Kwiaty jak ze snu!
Mówiąc o kwiatach jak ze snu mamy na myśli cudowne Kwiaty Dream. Świetnie sprawdzą się one na każdą okazję i jesteśmy przekonani, że złapią za serce każdego! Margaretki, róże, gerbery w towarzystwie delikatnej gipsówki to fantastyczna opcja! Dodajmy, że całość utrzymano w bardzo słodkiej kolorystyce: subtelne, białe rośliny świetnie prezentują się w towarzystwie różowych czy czerwonych!
Paryskie kwiaty
Teraz przyszedł czas na kompozycję bez wątpienia bardzo wytworną - tak jak ulice cudownego Paryża. Bukiet Paryski to świetny prezent dla każdej eleganckiej pani, lecz również nada się na różne, wyjątkowe okazje. Rośliny, wśród których oczywiście znajdują się margaretki, jakie składają się na całość posiadają delikatne barwy - króluje tu pomarańczowy, żółty i czerwony. Energii dodaje duża ilość zieleni, a patrząc na bukiet czujemy się jakbyśmy spacerowali klimatycznymi uliczkami stolicy Paryża.
 Zacznij dzień z kwiatami
Jak dobrze zacząć dzień? Oczywiście patrząc na cudowne kwiaty! Dlatego bez wątpienia warto jest naszym najbliższym podarować Bukiet Koktajlowy. Jego piękne barwy nam na myśl przywodzą piękne niebo, gdy słońce powoli wstaje! Niesamowity efekt uzyskujemy między innymi za sprawą połączenia margaretek z liliami, które są nie tylko piękne, lecz również należą do jednych z bardziej tajemniczych roślin, a to za sprawą historii, w których grają one przysłowiowe "pierwsze skrzypce".
Bajkowe piękno!
Bukiet rodem z najpiękniejszej baśni? Bez wątpienia będą to właśnie jedyne w swoim rodzaju Kwiaty Bajkowe! Nas zachwycają one przede wszystkim swoimi uroczymi kolorami: róż, zestawiono tutaj z fioletem i bielą, a całość udekorowano zielenią dekoracyjną, co daje naprawdę fantastyczne wrażenie!
Margaretki to bez wątpienia piękne kwiaty, lecz również bardzo uniwersalne! Niesamowicie są w stanie prezentować się w bardzo wielu kompozycjach!