Trendy florystyczne zmieniają się z sezonu na sezon coraz dynamiczniej. Floryści czerpią inspiracje z architektury, mody i muzyki. Układanie kwiatów staje się coraz istotniejszą gałęzią designu. Rok 2017 obfitował w pastelowe kolory i pozornie chaotyczne formy, sprawdź co przyniosą pierwsze miesiące tego roku.
Kształty i kolory
Podobnie jak w ubiegłym sezonie bukiety stracą swoje ściśle określone, dopracowane formy. Ich kształt zostanie wydłużony i poszerzony po bokach, głównie przez zieloną bazę na długich łodygach. Kwiaty będą ułożone luźno, bez sztywnego stroika, miejsce którego coraz częściej zajmować będzie długa, niedbale zawiązana wstążka. Drugim elementem stanowiącym swoiste przedłużenie poprzedniego trendu jest zdecydowana dominacja zieleni. Jeszcze pięć lat temu w kompozycjach dominowały kwiaty, kolorowe płatki o różnych kształtach stanowiły najważniejszy element całości, której tłem pozostawała delikatna liściasta baza. W obecnych trendach proporcje te uległy odwróceniu. Rośliny kwitnące stały się dodatkiem w bukiecie, a w najlepszym wypadku stanęły na równi z zielonymi pnączami. W związku z ową degradacją elementy, które przetrwały zmiany musiały odznaczać się wyrazistym kolorem, aby nie zginąć w gąszczu zieleni. Barwą przeważającą okazała się fuksja, zamieniana czasem na pomarańcz lub żółć. Wielu florystów wybierało także ciemne odcienie fioletu, bordo i granatu.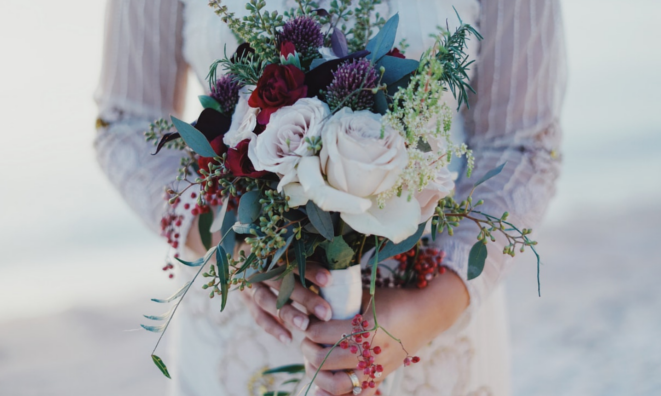 Dominacja zieleni
W powyższym akapicie zieleń została przywołana jako zdecydowana gwiazda tego sezonu. Rzeczywiście w licznych kompozycjach, na wystawach i pokazach to liściaste bazy grały pierwsze skrzypce. Można pomyśleć, iż jest to bardzo prosta forma i niejako ucieczka od kreatywności - nic bardziej mylnego. Mistrzowie świata: Stein Are Hansen oraz  Frédéric Dupré zaprezentowali wariacje z użyciem łodyg bazowych na międzynarodowych targach we Frankfurcie. W swoich kompozycjach wykorzystali liście draceny, bananowca, paproci, bluszczu i borówki, uzupełniając je jedynie pojedynczymi goździkami, chryzantemami i eustomami. Coraz częściej spotyka się także odmiany sukulentów w propozycjach podstawowych bukietów np. ślubnych.
Dodatki
W związku z trendem silnie inspirowanym przyrodą, w dodatkach do kwiatów przeważają materiały naturalne jak wiklina, trawa morska, włóczka i tym podobne. Tkaniną, która zdobyła najwięcej sympatyków we Frankfurcie był filc, oplatano nim zarówno doniczki, jak i całe bukiety. Dodawano go do skrzynek i stroików tworząc niezwykłe, oryginalne kompozycje. Natomiast materiałem, który zrobił furorę w Pekinie był bambus, z którego zbudowano szeroki na 20 m projekt, imitujący las, który miał symbolizować artystyczny brak ograniczeń. Na pokazie w Chinach nie brakowało także wspomnianej już wikliny i trawy morskiej, które dobrze komponowały się, z używanymi przez twórców zgaszonymi kolorami kwiatów. Nowością okazały się małe szklarnie zamknięte w … butelkach. Takie mini ogrody stanowią rozwiązanie dla wszystkich miłośników ogrodów, którzy z racji swoich warunków mieszkaniowych, nie mogą sobie na nie pozwolić. Równie innowacyjnym rozwiązaniem są samonawadniające, podwieszane doniczki ze szkła. Doskonałe rozwiązanie dla wszystkich zapominalskich.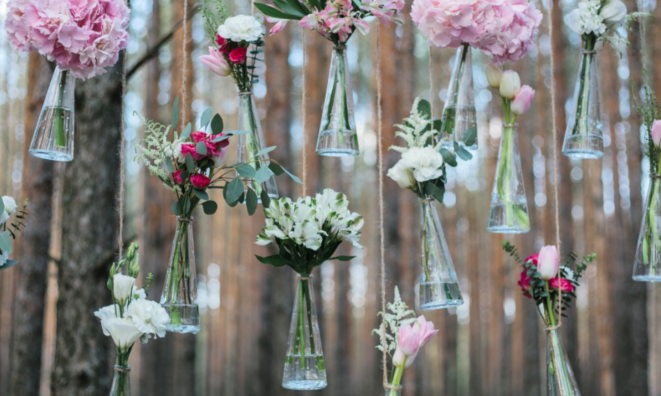 Florystyczne trendy stają się ważną gałęzią sztuki, ich znajomość pozwoli Ci wybierać najpiękniejsze kompozycje, pięknie ozdabiać dom i sprawiać wyszukane, zgodne z trendami prezenty. Chcąc zatem w nadchodzącym sezonie sprawić komuś przyjemność i jednocześnie pokazać, iż wiesz co w designie piszczy, koniecznie zapoznaj się z trendami na rok 2018.