Na dobre przyjęło się już, że miesiąc maj nazywa się potocznie 'komunijnym'. To właśnie teraz młodzi chrześcijanie obchodzą jedno z najważniejszych wydarzeń w swojej religii, które urosło do wielkiej rangi. Pierwsza Komunia Święta jest bowiem czasem, kiedy to restauracje przeżywają prawdziwe oblężenie - każde dziecko i jego rodzice chcą, by ten dzień na długo zapadł w pamięci jego głównego bohatera oraz całej rodziny. Dlatego poza albą i książeczką do błogosławieństwa dba się o fantastyczną oprawę wydarzenia, na którym nie może zabraknąć… kwiatów! Jak wykorzystać je w dniu I Komunii Świętej?
Wianki dla dziewczynek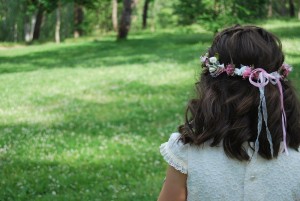 Najbardziej oczywistym sposobem wydaje się użycie żywych kwiatów do zrobienia wianka na głowę dziewczynki przyjmującej po raz pierwszy Komunię Świętą. Te mogą być wykonane na bazie drucianego okręgu owiniętego zieloną wstążeczką tak, by nie wbijał się on nieprzyjemnie w głowę młodej damy i nie był widoczny. Kwiaty wykorzystane do jego stworzenia powinny być trwałe, dlatego świetnie sprawdzą się np. goździki. Ponadto muszą mieć wystarczająco giętką łodygę i współgrać z kształtem twarzy dziewczynki. Jeśli ta jest drobna, to kwiatostany nie powinny być okazałe, gdyż całość będzie wyglądać nienaturalnie. Przestrzenie tworzące się między nimi warto wypełnić gipsówką lub gryczpanem.
Ozdoba gromnicy
Wstążki czy okapniki na gromnicę można zastąpić lub uzupełnić delikatnym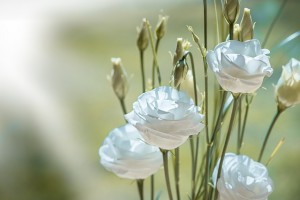 wianuszkiem z żywych kwiatów, który będzie wyglądał elegancko zarówno u dziewczynek, jak i chłopców. W przypadku tych pierwszych warto spróbować skomponować go z ozdobą wykonaną na głowę, z kolei młodzi panowie z pewnością docenią, jeśli kolorowe kwiaty wykorzystane do stworzenia tej ozdoby zostaną zastąpione zwykłym gryczpanem.
Kompozycje na stoły
Trudno wyobrazić sobie uroczysty obiad czy kolację podaną na elegancko nakrytych stołach, na których brakuje choćby najdrobniejszych akcentów kwiatowych. Kompozycje stworzone na tę specjalną okazję powinny być stonowane, współgrać z wystrojem restauracji, jednak nie przytłaczać swoją okazałością. Lepiej zdecydować się na wykorzystanie roślin w delikatnych kolorach: biel połączona z delikatnym różem, żółcią czy kolorem niebieskim to dobre wybory. Poza tym - podobnie jak w przypadku ozdoby gromnicy - można sprawić, aby kwiaty na stołach współgrały z tymi wykorzystanymi do stworzenia wianka lub udekorowania świecy. Zaleca się, aby bukietów na stoły nie umieszczać w wysokich naczyniach, co wciąż bardzo często się zdarza. Taka dekoracja jest po prostu drażniąca, gdyż goście rozmawiający ze sobą nie mogą na siebie patrzeć, dlatego koniec końców często odstawiają na bok przeszkadzające im ozdoby.
Ozdoba krzeseł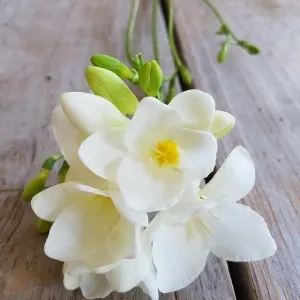 Nie trzeba poprzestawać na ozdabianiu stołów! Doskonale, jeżeli ich wystrój będzie uzupełniony o podobne, drobne kompozycje dekorujące krzesła gości. By uniknąć przesytu można zawiesić je na co drugim siedzisku. Ponadto warto zadbać o to, by takie bukieciki składały się tylko z kilku gałązek roślin. Umiar jest w tym przypadku niezwykle ważny - jeśli ilość kwiatów będzie przesadna, te przestaną stanowić ozdobę stając się ciężkim dodatkiem.
Twórcze wykorzystanie dobrodziejstw natury sprawdza się zawsze. Kwiaty na I Komunię Świętą będą idealnie współgrać z podniosłą atmosferą uroczystości, dlatego warto zastanowić się nad tym, by tego dnia stanowiły dla niej piękne tło. Ogrom prac związanych z przygotowaniami można zredukować poprzez zamówienie gotowych kompozycji z Poczty Kwiatowej, która z przyjemnością dostarczy także piękne bukiety gościom, chcącym wręczyć je dzieciom wraz z prezentem czy telegramem.