Róże są jednymi z najchętniej kupowanych kwiatów. Nie ma w tym absolutnie nic dziwnego - są przepiękne, eleganckie i dostępne w przeróżnych odsłonach, a ponadto nadają się jako upominek niemal na każdą okazję.
Kolory róż - co oznaczają?
Jak wiadomo, każdy kolor kwiatów ma swoje konkretne znaczenie. Zasada ta jest szczególnie żywa w przypadku róż, które same w sobie są symbolem miłości, zaufania i namiętności.
Czerwień jest stricte zarezerwowana dla wyznań miłosnych - odzwierciedla bowiem najszczersze uczucia i przywiązanie. Róże w tym kolorze są jednak kwiatami na tyle uniwersalnymi, że bez obaw można nimi obdarować kogoś innego niż partnera czy partnerkę.
Biel symbolizuje lojalność, szacunek, czystość. Z tego właśnie powodu bukiety ślubne tak często składają się właśnie z róż z jasnych odcieniach.
Róż to zachwyt nad rozkwitającą urodą, wdzięczność i podziw. Jest to stosunkowo bezpieczny kolor, który niełatwo zrozumieć opacznie.
Żółć do niedawna kojarzony był z negatywnymi uczuciami, takimi jak zazdrość, czy gniew. Dziś zmienił jednak swoją formę - ma być odzwierciedleniem radości, dobrych zamiarów i platonicznych uczuć.
Pomarańcz ma być wyrazem entuzjazmu, optymizmu i szczerej dumy. Kobieta, która dostała na spotkaniu herbacianą różę może się jednak spodziewać, że mężczyzna chce pójść w relacji o krok naprzód.
Najlepsze bukiety z różami
Bukiet rubinowy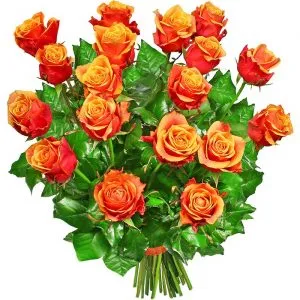 to prawdziwa klasyka gatunku. Składa się z 25 czerwonych róż i zieleni dekoracyjnej umieszczonej w przepięknym wazonie. Każdy, kto został nimi obdarowany poczuł się doceniony i kochany, a piękno i trwałość wiązanki zachwycała każdego kolejnego dnia. Bukiet Splendor to kolejna minimalistyczna, acz przepiękna propozycja, w skład której wchodzi 18 herbacianych róż będących wyrazem entuzjazmu i szczerych intencji. Są to dwie bardzo klasyczne opcje, natomiast kolejne wiązanki znajdujące się w naszym zestawieniu "TOP 5" nieco od nich odbiegają - bukiet Hollywood jest na to najlepszym dowodem. Róże o intensywnej barwie są w nim połączone z alstromerią, limonium i zielenią dekoracyjną, tworząc tym samym kolorową i przyciągającą wzrok kompozycję. Bukiet firmowy Poczta Kwiatowa to niesamowicie słoneczna propozycja, wprost idealna na nadchodzącą wielkimi krokami porę roku. Powiew wiosny jest z kolei propozycją zamykającą stawkę, która zachwyca każdego. Połączenie kolorów i gatunków jest w tej wiązance na tyle udane, że adresat z pewnością nie będzie mógł oderwać od niej wzroku.
Bukiety z różami w niestandardowej odsłonie
Na naszej liście TOP 5 znajdują się tradycyjne bukiety wykonane z kwiatów ciętych. Trudno jednak nie zgodzić się ze stwierdzeniem, że róże doskonale odnajdują się również w innych, nieco mniej standardowych kompozycjach. Przepięknie prezentują się jako wypełnienie flowerboxa oraz doskonale wypełniają swoim pięknem wiklinowy kosz.
Jak widać, róże niejedno mają imię. Zainteresowani zakupem tych przepięknych, niezawodnych kwiatów mają do wyboru całą masę przeróżnych kompozycji, które z pewnością zachwycą adresata niezależnie od okazji. Która z wymienionych propozycji jest Twoim faworytem?