Nadchodzące Święto Zakochanych to doskonała okazja do tego, by sprawić przyjemność ukochanej osobie. W tym szczególnym dniu warto zaskoczyć drugą połówkę i przygotować dla niej smaczne podarunki. Przeczytaj, a następnie wybierz najsłodsze niespodzianki na 14 lutego. 
Prezent na Święto Zakochanych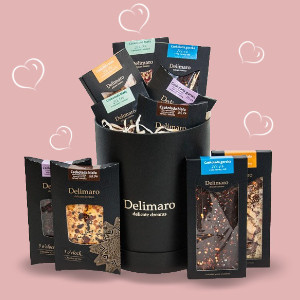 Każdego roku przed Walentynkami w głowach wielu z Was rodzi się pytanie - jaki prezent najbardziej spodoba się wybrance lub wybrankowi? Dwoicie się i troicie, aby znaleźć idealny podarunek, zaskoczyć oryginalnością wyboru, a jednocześnie wyrazić drzemiące w nas uczucia, okazać zainteresowanie i hojność. Często intensywne poszukiwania nie przynoszą wymarzonych rezultatów, a Wy czujecie się coraz bardziej zniechęceni. W takich momentach warto pamiętać o tym, że czasem najprostsze rozwiązania są najlepsze, a zamiast wymyślnych podarunków można przygotować romantyczną kolację z deserem i spędzić wspólnie niezapomniane chwile. Jeśli jednak w Walentynki od ukochanej osoby dzieli nas duża odległość, zawsze istnieje możliwość wysłania jej bukietu kwiatów lub pudełka luksusowych czekoladek, które osłodzą czas rozłąki.
Moc słodkich niespodzianek
Święto Zakochanych oprócz czerwonych serduszek oraz pluszowych maskotek wywołuje także skojarzenia z różnego rodzaju słodkościami. Nie od dziś wiadomo bowiem, że czekolada zawiera składniki, takie jak tryptofan i fenyloetyloamina, które wspomagają działanie hormonu przyjemności, wytwarzającego się podczas trwania w stanie zakochania. Prawdopodobnie właśnie dlatego słodycze stały się popularnym afrodyzjakiem, powodującym jednocześnie wyraźną poprawę nastroju. Swoim wybrankom warto zatem podarować łakocie przygotowane specjalnie z myślą o Walentynkach. Spośród szerokiej oferty kwiaciarni uwagę zwracają między innymi kosze zawierające praliny i ciasteczka, eleganckie flowerboxy z truflami, a także pudełka wypełnione ręcznie robionymi tabliczkami czekolad.
Czekolada i owoce
Dodatkowe wrażenia w Dniu Zakochanych zapewni również wybór produktów łączących niepowtarzalny smak czekolady i ulubionych owoców. Słodką przyjemność odnaleźć można dzięki spróbowaniu truskawek (stymulujących mózg do wydzielania endorfin i odznaczających się energetyczną barwą) oblanych ciemną i białą czekoladą, które udekorowano za pomocą drobnych serduszek. W Walentynki warto nasycić się także świeżymi, zdrowymi owocami, a następnie wspólnie delektować się lampką dołączonego do zestawu szampana.
14 lutego to data, której nie powinno się przegapić. Podczas tego wyjątkowego święta zyskujecie szansę wyznania skrywanych uczuć oraz okazania zainteresowania wieloletnim partnerom. Najsłodsze niespodzianki z całą pewnością podkreślą romantyczny nastrój, a zarazem osłodzą chwile zakochanym przebywającym daleko od siebie.