Sakrament Pierwszej Komunii to niezapomniane wydarzenie w życiu młodego człowieka. To czas, kiedy przybywają wszyscy bliscy i radują się wyjątkową okazją. Aby podkreślić, jak istotne jest przyjęcie dziecka do wspólnoty kościoła, wprowadzono zwyczaj obdarowywania go prezentami. Kwiaty to jeden z piękniejszych pomysłów na prezent, który dodaje powagi tej chwili, a także pozwala dziecku poczuć się docenionym oraz dojrzałym. Sprawdź jaki wybrać bukiet na komunię.
Subtelna kompozycja z elegancką eustomą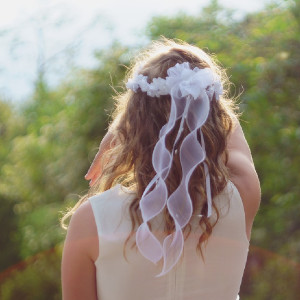 Jeżeli chcesz, aby Twój prezent był niezwykle elegancki, warto zdecydować się na bukiet, który utrzymany został w jasnych barwach z dodatkiem jasnego fioletu. Idealną kompozycją jest połączenie róż z eustomą, alstromerią i gipsówką. Taki prezent doceni każdy, od tych najmłodszych po najstarszych, dlatego sprawdzi się idealnie jako bukiet na komunię. Mimo swojej elegancji, nadal zachowuje swoją naturalną formę.
Delikatny, powabny bukiet
Poszukując delikatnego prezentu na komunię, warto poświęcić swoją uwagę bukietowi o nazwie Kwiaty Powabne. Składa się on z aż 15 białych róż, które dzięki otuleniu przez gipsówkę oraz hiperikum zyskują delikatniejszy wygląd. Powstaje klasyka w naturalnej formie. Biel tego bukietu podkreśla czystość oraz istotę przyjęcia pierwszej Eucharystii. Piękno, lekkość oraz nietuzinkowość składa się na to, iż można określić tę kompozycję prezentem idealnym na komunię.
Klasyczne, pachnące konwalie
Maj to czas pięknych, pachnących konwalii. Warto wykorzystać ten kwiat w okresie komunijnym. Nie trzeba wielu dodatków, gatunków kwiatów i wypełniaczy, aby zachwycić obdarowaną osobę. Wystarczy duży bukiet konwalii, jasno różowa, gruba kokarda i prezent na komunię gotowy.
Goździki w pudełku z pluszakiem
Chcąc zdecydować się na coś więcej niż tylko kwiaty, a jednak zachowując subtelność takowego prezentu, warto wybrać zestaw Delimaro z pluszakiem. Prezent ten zawiera pastelowe pudełko, wypełnione po brzegi uroczymi goździkami. Do kompletu dołączony jest pluszowy słonik, który może występować w formie różowej bądź niebieskiej - w zależności od płci dziecka, które przystępuje do sakramentu Pierwszej Komunii Świętej.
Bukiet z żelków dla smakosza
Czasem, kiedy znamy dziecko na tyle, że wiemy, iż kwiatowy prezent nie przypadnie mu do gustu, warto podejść do tego w inny sposób. Większość młodych osób przepada dla żelkami, dlatego powstały bukiety z żelków, które imitują kwiaty. Zachowuje to elegancką formę prezentu komunijnego w dość zabawny i nieoczywisty sposób. W zestawie Żelkowa Radość dołożono do zawartości także wysokiej jakości czekoladę Toblerone oraz pięć paczek żelków Haribo o różnorodnych smakach. Taki prezent wystarczy młodej osobie na długo, a jest idealnym sposobem na zwrócenie jego uwagi.
Warto budować poczucie wrażliwości młodego człowieka wręczając mu kwiaty podczas wyjątkowych okazji. Świeże, dopasowane do okoliczności kwiaty nadają charakteru, a także  są niezwykle eleganckim prezentem, który ucieszy każdego.