Tradycyjnie na Dzień Kobiet podarowuje się kwiaty, gdyż to właśnie one są symbolem zbliżającej się wielkimi krokami wiosny. Na początku marca w kwiaciarniach można więc znaleźć całe mnóstwo różnych kompozycji, a wśród nich tę jedyną, która będzie idealnie pasowała do okazji i osoby, która ją otrzyma. Jakie bukiety są najlepsze na Dzień Kobiet?
Wiosenny podarunek na Dzień Kobiet
Od wielu lat najpopularniejszymi kwiatami na Dzień Kobiet są tulipany, jednocześnie będące symbolem zbliżającej się wiosny. Sekret ich popularności tkwi w prostej formie, która kojarzy się z lekkością i delikatnością, co przystaje do panującej na zewnątrz aury. Pierwsze dni marca, kiedy to przyroda powoli budzi się do życia, sprzyjają subtelnym kwiatom, takim jak tulipany. Choć niektórym mogą wydawać się one odrobinę zbyt zwyczajne na bukiet na Dzień Kobiet, to tak naprawdę wystarczy kilka dodatków, aby nadać tulipanom bardziej eleganckiego charakteru. Można zrobić to związując je elegancką wstążką w kolorze płatków albo dodając do bukietu kilka pęków gipsówki.
Bukiety z frezji idealne dla kobiet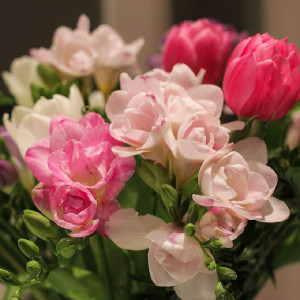 Innym gatunkiem, który króluje wśród bukietów dawanych na Dzień Kobiet, są frezje. Drobne kwiaty tej rośliny oczarowują swoim słodkim zapachem oraz wdzięcznym i figlarnym wyglądem - drobne płatki mogą przybierać najróżniejsze odcienie, od niewinnej bieli po zadziorny fiolet. Frezje prezentują się świetnie zarówno jako baza bukietu, jak i dopełnienie do innych gatunków. Kompozycję złożoną z tych kwiatów warto dopełnić soczyście zielonymi dodatkami, które jeszcze bardziej podkreślą ich wiosenny i radosny charakter.
Klasyczny bukiet z okazji Dnia Kobiet
Szukając kwiatów na Dzień Kobiet dla wyjątkowo ważnej i bliskiej sercu Pani, można też sięgnąć po tradycyjny bukiet złożony z róż. Podobnie jak tulipany i frezje, również one mogą występować w najróżniejszych kolorach, nawet tych, które powszechnie uważa się za ekstrawaganckie. Kwiaty zawsze robią piorunujące wrażenie i oszałamiają swoją elegancją. Co ważne, jest to jeden z tych gatunków, który nie potrzebuje wielu ozdób, by prezentować się dobrze i efektownie - czasem wystarczy jeden zadbany i rozłożysty kwiat, by wywrzeć na obdarowanej osobie ogromne wrażenie.
Podarowując bukiet na Dzień Kobiet, trzeba pamiętać, że nie tylko wybór kwiatów jest istotny, bowiem równie ważne, a może nawet bardziej, jest to, w jaki sposób zostaną one przekazane. Podczas ich wręczania warto uśmiechnąć się serdecznie i utrzymywać wzrokowy kontakt z adresatką bukietu, miłym akcentem będzie też powiedzenie komplementu. Jeśli nie można przekazać go osobiście, to zawsze można przesłać kwiaty poprzez Pocztę Kwiatową wraz z bilecikiem ze spersonalizowanym tekstem.