1 czerwca to jedna z najradośniejszych dat w całym roku - święto to zostało stworzone z myślą o rozpieszczaniu dzieci, tych małych i dużych. Zastanawiasz się jaki prezent uszczęśliwi najbardziej Twoją pociechę? Sprawdź nasze propozycje uniwersalnych prezentów na Dzień Dziecka, które wzbudzą radość w każdym maluchu.
Smaczne bukiety żelkowe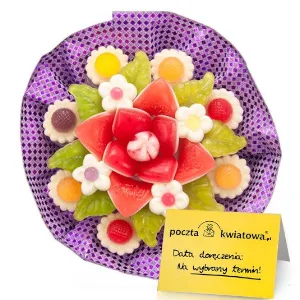 Wszystkie małe rozrabiaki ucieszą się z bukietu kwiatów, który ma jedną, bardzo praktyczną funkcję - da się go zjeść. W żelkowej kompozycji uwzględnione zostały wszystkie ulubione owocowe smaki - od truskawki po zielone jabłko - a same słodycze ułożono w sposób, który ma imitować prawdziwe rośliny. Prawdziwym łakomczuchom można podarować kosz pełen przysmaków, oprócz żelkowego bukietu znajdują się w nim też pyszne ciasteczka zamknięte w ozdobnej puszce, jajka niespodzianki, landrynki oraz pluszowy słonik, który stojąc na półce jeszcze przez długi czas będzie przypominał o tym przepysznym prezencie z okazji Dnia Dziecka.
Prezenty na 1 czerwca dla najmłodszych
Maluchom z okazji Dnia Dziecka można podarować książkę sensoryczną. Inaczej mówiąc, jest to książeczka edukacyjna, która wykorzystuje wszystkie zmysły dziecka, by dostarczyć mu jak najwięcej bodźców, które pobudzą mózg do pracy. Dzięki swojej strukturze, zabawka ta pozwala rozwijać się maluchowi jednocześnie na kilku poziomach - jest to jeden z najbardziej efektywnych sposobów na poznawanie świata. W zależności od treści, mogą one uczyć różnych umiejętności, na przykład książeczka Urodzinowy Krab pomaga poznać kształty i kolory. Dużą zaletą książek sensorycznych jest to, że zostały one zaprojektowane tak, by były w pełni bezpieczne dla dziecka. Są więc odprone na szarpanie, gryzienie i inne szalone rzeczy, które maluch może próbować z nią robić.
Bukiet idealny dla małej dziewczynki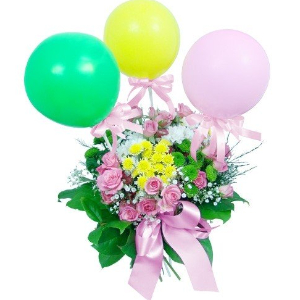 Z kolei małe księżniczki, które lubią czuć się naprawdę wyjątkowo warto obdarować "dorosłą" niespodzianką w postaci bukietu kwiatów. Wybierając rośliny należy zwrócić uwagę na to, by były one pozbawione kolców i innych elementów, które mogłyby wyrządzić dziecku krzywdę, dlatego w tym przypadku dużo lepiej niż róże sprawdzą się delikatne frezje czy też goździki. Ciekawym urozmaiceniem tego bukietu, który jednak podkreśli jego dziecięcy, niezobowiązujący charakter, będą baloniki napełnione helem - chyba nie ma dziecka, które na ich widok nie zapiszczałoby z zachwytu. Dodatkową atrakcją, która uczyni obchody Dnia Dziecka naprawdę wyjątkowymi będzie posłanie kwiatów kurierem - maluch poczuje się tak, jak we wszystkich bajkach o królewnach.
Wybór prezentu na Dzień Dziecka jest bardzo ważny - musi on w pełni przypaść do gustu maluchowi, w końcu w tym święcie chodzi o to, by trochę go rozpieścić. Nie można jednak zapominać, że równie ważne co materialny upominek jest spędzenie z pociechą czasu na wspólnej zabawie lub wyjściu do kina. Upominek w postaci żelkowego bukietu czy też pluszaka będzie doskonałym uzupełnieniem dnia pełnego atrakcji.