Początek kwietnia to czas kiedy pojawiają się coraz ciekawsze kompozycje kwiatowe. Tradycyjne róże, tulipany czy cynie zostają wzbogacone o pozornie delikatne, ale efektowne limonium. Brzmi egzotycznie? Poniżej dowiesz się czym charakteryzuje się ta wyjątkowa roślina.
Limonium czyli Zatrwian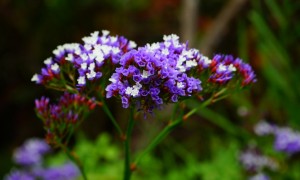 Czym jest tajemnicza roślina limonium? Jej polska nazwa brzmi zatrwian, występuje ona w wielu miejscach na świecie - od Ameryki Północnej, przez Europę, po daleką Azję. Biolodzy zdołali jak dotąd wyróżnić 150 gatunków tych kwiatów, szacuje się, że w przyrodzie jest ich dwa razy tyle. W systematyce zaliczane są do bylin z rodziny ołownicowatych. Jeżeli zaś chodzi o warunki bytowania to są to niezwykle tolerancyjne rośliny, nie straszne im suche, zasolone gleby, rosną również w wymagającym podzwrotnikowym klimacie. Nie dziwi więc fakt, że coraz częściej można je spotkać w przydomowych, polskich ogródkach. Kolory, jakie przybierają płatki są niezwykle różnorodne od intensywnych żółci, przez fiolety do głębokich odcieni błękitu. Wiele odmian charakteryzuje się rozłożystą budową, zwieńczoną wieloma kwiatostanami na łodydze, co sprawia, że doskonale sprawdzają się w roli dekoracji bukietów.
Limonium - z jakimi kwiatami prezentuje się najlepiej
Bukiety z limonium zachwycają różnorodnością, mogą to być kompozycje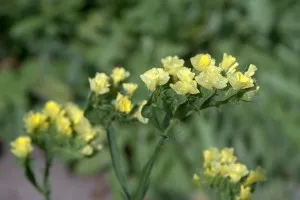 złożone z tradycyjnych kwiatów jak: cynie, róże czy tulipany, które zostają dopełnione delikatnymi zatrwianami. Bardziej nowatorską propozycją są zestawienia z polnymi roślinami i ziołami jak: rumianek, niezapominajka, chaber czy mak. Coraz częściej pojawiają się także rustykalne zestawienia wielu odmian limonium, różniących się jedynie kolorem. Barwami w których najczęściej występują zatrwiany są: niebieski i fioletowy, ale także żółty, sprawia to, że doskonale komponują się z kolorami słońca, różami i zgaszonymi pomarańczami. Na zasadzie kontrastu dobrze wpisują się w monochromatyczne białe kompozycje.
Bukiety z limonium na prezent
Wiosenne kwiaty są doskonałym pomysłem na podarunek, kiedy wybierasz się na rodzinny obiad i chcesz sprawić przyjemność gospodarzom. Bukiet z limonium będzie bardzo dobrym wyborem na tego typu okazje, z racji swojej delikatności i żywych kolorów nie przytłoczy swoją objętością i będzie kojarzył się z ciepłą, rozkwitającą wiosną. Bukiet z zatrwianów to również świetny wybór dla osób lubiących nieoczywiste rozwiązania, które poszukują świeżości i chcą być zaskakiwane.
Bukiet z limonium będzie stanowił nie tylko przepiękny podarunek i dowód wdzięczności dla gospodarzy rodzinnego spotkania, ale także świetnie przyozdobi stół czy parapet. Zatrwiany ze względu na swoją dużą odporność, pozostaną urokliwą ozdobą mieszkania jeszcze na długo. Chcąc nieco ubarwić spotkanie z najbliższymi, przynieś na nie oryginalny, kolorowy bukiet z zatrwianów.