Przesąd o zawieraniu małżeństw w miesiącach z literką "r" w nazwie sprawia, że terminy wrześniowe są coraz częściej wybierane przez narzeczonych jako idealny moment, by powiedzieć sakramentalne tak. Jeśli jeszcze weźmiemy pod uwagę umiarkowane temperatury i piękne okoliczności przyrody, łatwo będzie przekonać się do wrześniowych ślubów. A dla kwiatów jest kolejny sezon - jakie więc gatunki najlepiej wykorzystać do wrześniowych bukietów ślubnych?
Fioletowe kombinacje
Mimo że wrzesień jest jeszcze miesiącem letnim, przywodzi na myśl kolory jesieni: czerwień, pomarańcz, żółty, złoty czy brąz, jednak wiele roślin kwitnących w tym czasie ma odcień fioletu. Przykładem niech będzie wrzos - jest przecież wizytówką jesieni pięknie prezentującą się na gankach domostw. Dlaczego więc nie wykorzystać go w bukietach ślubnych? Warto się o to pokusić również ze względu na jego trwałość i minimalistyczny wygląd. Wrzesień jest też momentem kwitnienia, cynii, lwich paszczy i kapusty ozdobnej, która może stanowić oryginalne uzupełnienie bukietu. Do fioletowych kompozycji doskonale pasuje frezja, która mimo że zakwita nieco wcześniej, jest popularną i niezwykle efektowną dekoracją ślubną.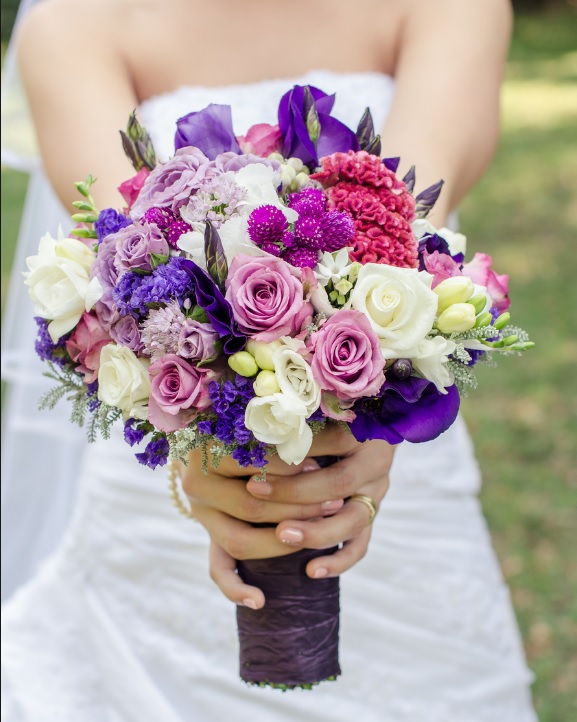 Inne spojrzenie na chryzantemy
Utarło się przekonanie, że chryzantemy świetnie nadają się… na cmentarz. Ubolewają nad tym floryści, gdyż jest to kwiat fantastycznie wpasowujący w dużo weselszą scenerię - ślub. Warto zasięgnąć porad doświadczonych artystów, którzy na pewno przekonają niejedną Pannę Młodą, by porzuciła przesądy i pozwoliła zrobić sobie okazale wyglądający bukiet z chryzantem, które symbolizują pamięć, więc na pewno na długo zachowają wspomnienia o tym szczególnym dniu.
Jesienne inspiracje
Wreszcie przy wyborze odpowiedniej koncepcji, można zasugerować się nadchodzącą porą roku. Jesień sprzyja temu, by bukiety ślubne były utrzymane w kolorystyce przypominającej spadające liście, a ich tworzeniu sprzyjają sezonowe kwiaty: dalie, astry, róże, słoneczniki - wybór roślin jest duży, a właściwe ich dobranie na pewno stworzy pożądany efekt.
Dodatek do wszystkiego
Wielość barw i delikatność hortensji sprawia, że nie potrzebują ozdób, bo same mogą nią być. Bukiety ślubne z wykorzystaniem tych kwiatów może charakteryzować prostota spowodowana użyciem kilku roślin tego gatunku. Bardziej okazały efekt można uzyskać poprzez połączenie hortensji z innymi kwiatami, którymi można poprzetykać okazałe kwiatostany.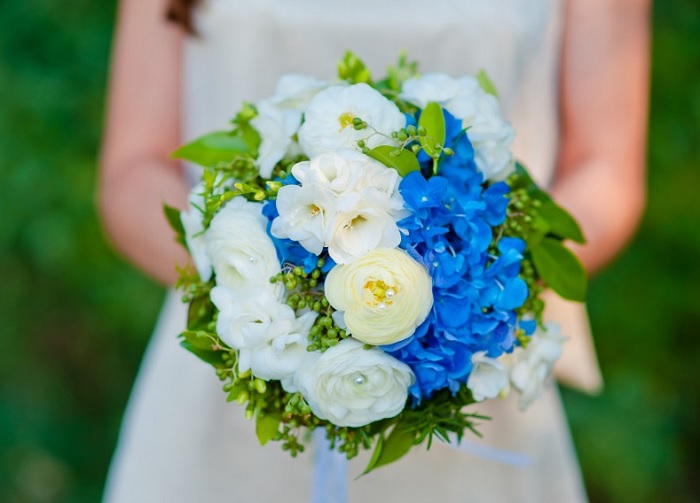 Kwiaty miłości
W tym zestawieniu nie mogło zabraknąć agapantusa nazywanego kwiatem miłości. Jego drobne niebieskie kwiatki świetnie komponują się z innymi gatunkami, lecz podobnie jak w przypadku hortensji, można stworzyć wiązankę przy użyciu wyłącznie tej rośliny. W zależności od kompozycji może budzić skojarzenia z rozległymi łąkami, albo tworzyć ekskluzywnie wyglądającą ozdobę.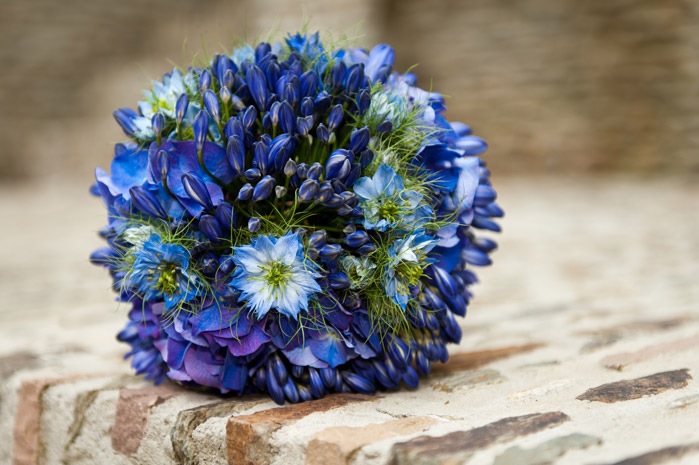 We wrześniu warto wykorzystać do stworzenia wiązanek ślubnych kwiaty sezonowe, które swoimi barwami przywołają piękno przeistaczającej się przyrody. Nawiązanie bukietem do pory roku to świetny pomysł przede wszystkim dla pań preferujących oryginalne rozwiązania, chcących by trzymany przez nie bukiet zachwycał i wyróżniał się.