Poszukując nietuzinkowego prezentu, który można wręczyć niezależnie od okazji, warto poświęcić uwagę nowości Poczty Kwiatowej. Róże w rożkach to niezwykle estetyczna niespodzianka, którą doceni każda obdarowywana osoba. Zdecydować się można na trzy ponadczasowe kolory w zależności od znaczenia, jakie chcemy im nadać.
Różowa róża lub czerwone goździki w czarnym rożku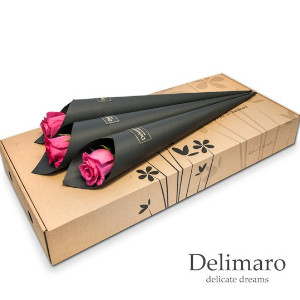 Jeżeli poszukujesz prezentu dla kobiety, która jest niezwykle urodziwa bądź utożsamiasz ją z samymi pozytywnymi cechami, niezależnie od relacji, które was łączą, warto zdecydować się na róże w kolorze różowym lub intensywnie czerwone, dziewczęce goździki. W połączeniu z czarnym papierem ich barwa zostanie jeszcze bardziej wydobyta, tworząc niesamowity kontrast.
Czerwona róża w białym rożku
Znaczenie czerwonej róży zna już chyba każdy. Czerwień to kolor romantycznej miłości, kochanków i namiętności. Jest to idealny kwiat do wyrażenia gorących uczuć, niezależnie czy na pierwszej randce, rocznicy ślubu czy podczas Walentynek. Biały papier, którym owinięty jest ten kwiat nada delikatności, dzięki czemu będzie to doskonały prezent do wręczenia również mamie, siostrze bądź córce, aby wyrazić rodzinną, wielką miłość oraz zaufanie.
Żółta róża w czarnym rożku
Zaskakujący może być fakt, iż w epoce wiktoriańskiej, żółty kolor kwiatów utożsamiany był z negatywnymi uczuciami, takimi jak zazdrość, zdrada czy oszustwo. Na szczęście ich znaczenie z biegiem czasu uległo zmianie, a wręczanie żółtych róż stało się symbolem przyjaźni, szczęścia i solidarności. W Stanach Zjednoczonych kwiaty w tym kolorze wręcza się w ramach pocieszenia, a w kulturach wschodnich oznaczają one siłę i mądrość, dzięki czemu są idealne na przykład do pogratulowania awansu. Warto w przypadku wysłania tychże kwiatów dołączyć także bilecik, na którym napisze się co nieco o okazji.
Aby sprawić niezapomnianą niespodziankę, warto wykorzystać kwiatogram. Kwiaty wysłane kurierem pod podany adres sprawią wiele radości obdarowywanej osobie, szczególnie jeżeli nie ma możliwości spotkania się osobiście ze względu na brak czasu bądź dużą odległość. Róże w rożkach to wspaniały pomysł, aby zachwycić drugą osobę niezależnie od okazji. Można zdecydować się na jeden kwiat w rożku, trzy bądź aż pięć.