Niektórzy mówią, że listopad jest zbiorem poniedziałków z całego roku. Możliwe, że dlatego jest to czas, kiedy wielu z nas dosięga jesienna chandra i wtedy właśnie najchętniej wracamy myślami do cieplejszych miesięcy. Złagodzić stres związany z codziennym biegiem, szczególnie kiedy dni są coraz krótsze, mogą kolorowe kwiaty doniczkowe czy barwne bukiety. Dzięki nim będziemy mogli wnieść trochę wiosny do pomieszczeń naszych domów, pomimo chłodnej, jesiennie aury.
Najlepszy sposób na jesienną chandrę - kolorowy antydepresant
Niemalże od zawsze, jednym z podstawowych elementów dekoracji wnętrz są kwiaty. Niezależnie od tego, jaki preferujemy styl, pasują one niemal do wszystkiego. Szczególnie jesienią, warto jest wybrać takie rośliny, które ubarwią przestrzeń wokół nas. Sposobem na jesienną chandrę może okazać się wybranie bukietów w uspokajających tonach, na przykład Pastelowej Kompozycji lub ożywienie wnętrza zdecydowanymi, mocnymi kolorami, które znajdziemy w  Kompozycji Radosny Koszyk, która dzięki połączeniu krzykliwych czerwieni oraz wyrazistych róży przegoni każdą szarugę i wieczory, które jesienią przychodzą zdecydowanie za szybko. Jako, że właśnie o tej porze roku, za naszymi oknami robi się znacznie wcześniej ciemno, a temperatura nie zachęca do przebywania na dworze, warto poświęcić ten czas na chociażby na pielęgnację roślin w domu. Jest to doskonały pomysł szczególnie dla tych osób, które tęsknią za letnią pracą w ogródku. Alternatywną dla niej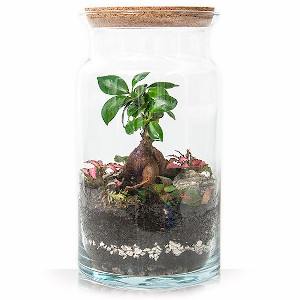 może być Las w słoiku DIY - Bonsai, wewnątrz którego tworzy się samowystarczalny ekosystem. Jest to niezwykle łatwe w przygotowaniu, a obserwacja prywatnego lasku daje ogromną satysfakcję.
Kwiaty "reliktem" wakacji"
Wielu z nas próbuje radzić sobie z jesienną chandrą za pomocą wspomnień cieplejszych miesięcy. Jak wiadomo, jednym z najbardziej czułych zmysłów jest węch: wystarczy tylko, że zamkniemy oczy i dany zapach przeniesie nas w miniony czas wakacji. Jesień możemy pożegnać chociażby dzięki ciekawej kompozycji, jaką jest Bukiet Sycylijski, który kojarzy się z przyrodą występującą na tej włoskiej wyspie, dzięki pudrowym różom i żółtym gerberom. Z kolei, czerwone goździki, na myśl mogą przywodzić nam tylko jeden taniec, czyli gorące Pasodoble o hiszpańskich korzeniach. Ten kraj położony nad ciepłym Morzem Śródziemnym przypomnieć może nam kompozycja o jakże wymownej nazwie, czyli Bukiet Pasodoble. Z wakacjami spędzonymi pod namiotem, w lesie czy też górach kojarzyć nam się będą paprocie skomponowane z innymi zielonymi roślinami doniczkowymi.
Zdrowotne właściwości kwiatów
Kiedy temperatury na dworze spadają, a przez mniejszą ilość słońca nasz organizm nie dostaje odpowiedniej ilości witaminy D, zmartwieniem jest nie tylko jesienna chandra, ale też słabnąca kondycja fizyczna, dlatego warto, żebyśmy zadbali o zdrowie. W okresie grzewczym szczególnie istotne jest właściwe nawilżenie powietrza oraz jego nienaganna czystość. W zapewnieniu tego, nam pomóc szereg kwiatów doniczkowych, a w szczególności dracena. Jest ona zaliczana do roślin antysmogowych. Cechuje się odpornością na trudne warunki oraz jest łatwa w pielegnacji, dlatego praktycznie każdy może mieć ją w mieszkaniu. Pamiętajmy, że im więcej zieleni w naszym otoczeniu tym lepiej. Jest to kolor działający uspokajająco, a także odciążający nasz wzrok po wielu godzinach pracy przy ekranie.
Chociaż jesień to dla wielu z nas trudny okres w roku, nie zawsze musi wiązać się z obniżeniem nastroju. Warto, żebyśmy przede wszystkim zadbali wtedy o nasze samopoczucie; chociażby za sprawą małej przyjemności, jaką może być zakup pięknie wyglądających i pachnących, świeżych kwiatów.