Wydawałoby się, że wiosna i lato – okres, który kojarzy się z feerią barw wśród wszystkich kwiatów – to najlepszy czas na piękny bukiet na ślub. Jesienią  jednak równie łatwo o ciekawe, bogate kolorystycznie kompozycje. Jakie bukiety sprawdzą się zatem jako prezent na październikowy ślub? Doradzamy w poniższym artykule.
Klasyczne pomysły na kwiaty na ślub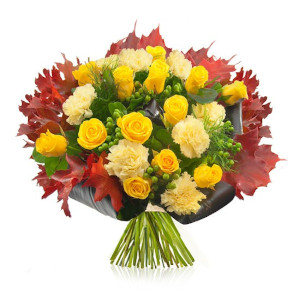 Chociaż jesień kojarzy się z szarością i stonowanymi kolorami, wcale nie musi być nudna. Różne odcienie żółtego przełamane brązem w bukiecie Barwy Jesieni komponują się idealnie przywołując na myśl złotą polską jesień, jedną z piękniejszych pór roku. Właśnie dlatego warto zdecydować się na bukiet kwiatów na ślub w takich kolorach. Dodatkowy element w postaci dekoracyjnych liści klonu, które są symbolem jesieni, dodatkowo wzbogaca całą kompozycję, powodując, że staje się oryginalna i jedyna w swoim rodzaju.
Inną propozycją może być bukiet, który samą nazwą nawiązuje do wyjątkowości okazji, jaką jest ślub bliskich nam osób. Kompozycja Magiczny Czas kryje w sobie między inni goździki – to one, w połączeniu z subtelnymi tulipanami, podkreślą wagę wydarzenia. To właśnie te kwiaty są najczęściej wybierane do bukietów na październikowe śluby i wesela. Cała kompozycja utrzymana jest w jesiennej kolorystyce, a dodatkowym atutem jest piękny zapach, który będzie unosił się w całym pomieszczeniu.
Jeśli jednak jesienne barwy nie leżą w naszym guście, bez trudu możemy odnaleźć inne kompozycje kwiatowe idealne do wręczenia jako prezent podczas październikowego ślubu. W tym okresie na popularności zyskuje także fiolet w każdym odcieniu, dlatego dobrze jest wybrać Bukiet Impresja, który swoimi pozytywnymi kolorami rozjaśni nawet najbardziej pochmurny dzień.
Oryginalne jesienne szaleństwo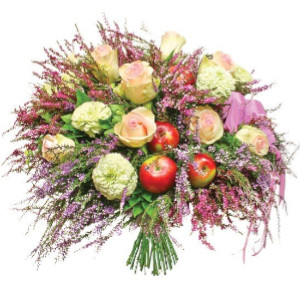 Kwiaty same w sobie zdają się wystarczać jako prezent ślubny, jednak niektórzy chcą podarować coś więcej – coś, co zapadnie w pamięci na długo. W takiej sytuacji warto postawić na oryginalny pomysł, jakim jest bukiet, ale złożony nie tylko z kwiatów, ale także z jabłek. Kompozycja z różami i wrzosem Bukiet z jabłkami skradnie serca każdego estety oraz osoby wrażliwej na piękno. Ten bukiet to coś zupełnie nowego, czego para młoda prawdopodobnie się nie spodziewa – dzięki takiemu rozwiązaniu sprawisz prawdopodobnie najlepszy prezent spośród całej listy gości! Nie tylko będziesz oryginalny ze względu na świetny pomysł, ale także na bogatą symbolikę – w końcu jabłko stanowi dwie odrębne połówki połączone w jedną spójną całość, co mówi o wielkiej miłości młodych, szanowanej i podziwianej.
Choć pomysłów jest wiele, to tylko jeden może stać się tym właściwym i idealnym. Zarówno goździki, jak i bukiety z jabłkami sprawdzą się idealnie na jesiennym ślubie. Na które rozwiązanie się zdecydujesz?