Projektanci w obowiązujących trendach nie przestają zaskakiwać. W pokazach na nowy sezon pojawiła się ciekawa propozycja biżuterii z żywych kwiatów stworzona przez Susan McLeary. Wśród jej propozycji znalazły się między innymi: pierścionki, bransoletki i wianki. Wszystkie doskonale podkreślające urodę i kobiecość. W jaki sposób zainspirować się nowościami?
Kwiaty do biżuterii
W projektach zaproponowanych przez amerykańską projektantkę wykorzystane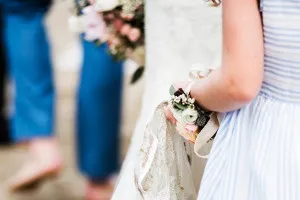 zostały długowieczne sukulenty takie jak: agawa czarna, agawa neomexicana czy eszeweria. Nie są to jednak jedyne rośliny, które nadają się do tworzenia niepowtarzalnych ozdób. Można również wykorzystać tradycyjne kwiaty kwitnące, nie przetrwają tak długo jak odmiany sucholubne, ale na krótkich, kilkugodzinnych imprezach będą prezentowały się doskonale. Ponadto kolorowe płatki przywodzą na myśl młodzieńcze lata, gdy dziewczęta zrywały świeże kwiaty z łąk i plotły z nich wianki, dlatego właśnie biżuteria z kwiatów kojarzy się z delikatnością i podkreśla kobiecą urodę.
Kolczyki, naszyjniki z kwiatów
Biżuteria z kwiatów to nie tylko tradycyjne wianki, na salony wkraczają również ciekawe połączenia kolczyków i naszyjników stworzonych z żywych kwiatów. Takie połączenia wyglądają niezwykle elegancko i tworzą spójną całość, która doskonale prezentuje się na zdjęciach, dlatego poleca się wybór takich ozdób zwłaszcza paniom, przygotowujących się do ślubu. Oczywiście można zamówić gotowe projekty lub zabawić się w projektanta i wykonać je samemu, wystarczy wybrać odpowiednie kwiaty i do dzieła. Kolczyki z kwiatów oraz naszyjniki są blisko skóry, dotykają jej, dlatego wybierając komponenty do stworzenia ozdób należy pamiętać, aby gatunki nie miały kolców, ani nie uczulały i podrażniały delikatnego naskórka. Elementy handmade są pracochłonne, ale pozwalają na osiągnięcie pożądanego efektu, a także sprawiają ogromną satysfakcję. Potrzebne komponenty możesz zamówić np. za pośrednictwem kwiaciarni internetowej.
Bransoletki i wianki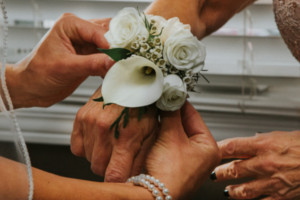 Plecionki z żywych roślin to nic nowego, często pojawiają się zwłaszcza w amerykańskich filmach na studniówkach, balach maturalnych i ślubach. Występują zwykle w formie bransoletek i opasek, noszonych przez dziewczęta na rękach. Taki dodatek pozwala stworzyć harmonijną całość na imprezie. Na weselu warto wyposażyć w taki niewinny, ale efektowny element swoje druhny, natomiast na balu maturalnym podczas poloneza, bransoletki z kwiatów lepiej sprawdzają się od pojedynczych róż - nie przeszkadzają w tańcu. Wianki pozostają modne, niezmiennie od kilku sezonów goszczą na głowach panien młodych. Popularność ozdoby wynika z szerokiego zainteresowania stylem rustykalnym, który świetnie dopełniają naturalne dekoracje.
Kwiaty we włosach
Kwiaty we włosach zawsze wyglądają świeżo i odmładzają, nie dziwi zatem fakt ich szerokiego wykorzystywania. Żywe, kwitnące rośliny wykorzystuje się jako spinki, pojedynczo wsuwa między kosmyki albo przyozdabia fryzurę małymi pączkami kwiatów. Atutem takich ozdób jest niezwykle szeroki wybór komponentów. W zależności od charakteru i stylu imprezy warto wybrać kwiaty, które będą wpisywać się w jej klimat. W przyrodzie występuje ogromna ilość gatunków kwiatów, stąd możliwości ich połączenia i wyboru są równie wielkie. Warto przemyśleć takie rozwiązanie w trakcie planowania dekoracji np. ślubnych czy wieczorowych.
Kwiaty wkroczyły na modowe salony już jakiś czas temu, natomiast obecnie przeżywają prawdziwy rozkwit. Biżuteria z kwiatów jest niezwykle trendowa i zachwyca na wielu prestiżowych imprezach i wydarzeniach. Dlatego jeśli chcesz włączyć ją do swojej stylizacji, koniecznie wybierz jedną z podanych propozycji, na pewno zrobi oszałamiające wrażenie.