Zawiadomienie bądź zaproszenie na uroczystość zaślubin jest doskonałą okazją do złożenia życzeń Młodej Parze. Niestety jednak, nie zawsze można ten ważny dzień spędzić razem z Nowożeńcami. W sytuacji, gdy niemożliwa jest obecność dla ślubie, miłym gestem jest wysłanie bukietu kwiatów adresowanego do miejsca, w którym aktualnie przebywa para. Jeśli przygotowania do ceremonii odbywają się w hotelu, w którym organizowane jest później przyjęcie weselne, to warto właśnie pod ten adres wysłać wiązankę. Jaki bukiet będzie adekwatny na tę okazję?

Największą popularnością cieszą się kwiaty w kolorze białym oraz pastelowym. Biel oznacza niewinność, wdzięk, piękno - dlatego też barwa ta, tak często gości w bukietach przeznaczonych dla Nowożeńców. Z kolei odcienie różu utożsamiane są z delikatnością, subtelnością oraz romantyzmem.
Najładniej na ślubie prezentują się bukiety tzw. koktajlowe, czyli składające się z różnych gatunków kwiatów. Mogą one być jednokolorowe, ale niekoniecznie. Muszą jednak tworzyć spójną kompozycję.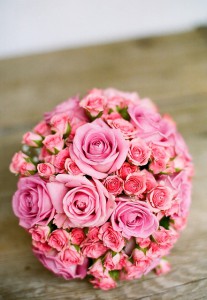 Popularnymi kwiatami dostępnymi przez większą część roku i wybieranymi bez względu na porę roku są róże, goździki, gerbery oraz frezje. Niezwykle elegancki i widowiskowy jest bukiet stworzony z eustomy. Interesującą alternatywą dla tradycyjnej wiązanki jest kosz wiklinowy wypełniony świeżymi kwiatami. Ponadto można do niego dołączyć bilecik z życzeniami, który Nowożeńcy będą mogli po zakończonej uroczystości w spokoju przeczytać. Miłym gestem jest również przesłanie dodatkowo wina, szampana lub słodkości.
Na co szczególnie trzeba uważać przy kupnie bukietów i jakich błędów się wystrzegać? Przede wszystkim zaleca się pamiętać, by nie wręczać Młodej Parze wiązanki w kolorze powszechnie uznawanym za pogrzebowy, czyli ciemnym fiolecie. Warto wybierać kwiaty, które nie pachną zbyt intensywnie, gdyż posiadanie w domu tylu pachnących roślin może być dla Nowożeńców męczące. Bardzo widowiskowo wyglądają białe tulipany, jednak nie są one zbyt trwałe, zwłaszcza w okresie letnim, dlatego zaleca się mieć to na uwadze.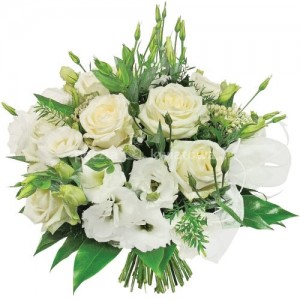 Niezależnie od wielkości bukietu, zapewne przesłanie wiązanki będzie dla Młodej Pary miłą niespodzianką. Ponadto wysłanie bukietu może chociaż w pewnym stopniu wynagrodzić Nowożeńcom nieobecność podczas wesela. Odpowiednim wyborem na pewno okażą się białe róże, które są symbolem miłości i wierności uczuć, czyli doskonale przekazują moc życzeń, jakie wszyscy pragną składać Młodej Parze. Kwiaty wyrażają emocje i oznaczają szacunek, zatem naprawdę warto pomyśleć o takim podarunku.