Wielkanoc zbliża się wielkimi krokami, zgodnie z tradycją polskie rodziny spotykają się na wspólnym śniadaniu, dzielą jajkiem i składają życzenia. Stara zasada savoir vivre, mówi o tym, że nie wypada przychodzić w gości z pustymi rękoma. Dlatego gdy wybierasz się wspólne świętowanie koniecznie zabierz ze sobą kwiatowy podarunek, sprawi radość Pani domu i pięknie przystroi zastawiony stół.
Kwiaty wiosny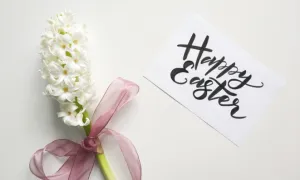 Przełom marca i kwietnia to niekwestionowany czas dominacji tulipanów, żonkili i hiacyntów. Kwiaty te oprócz tego, że znakomicie cieszą oko, mają również walory zapachowe. W ramach podziękowania, dla gospodyni domu warto wybrać bukiet hiacyntów - ich płatki wytwarzają przyjemną, otulającą woń, a same rośliny są symbolem szczęścia, mądrości, a także czystości żywionych uczuć. Tulipany występują w wielu kształtach i kolorach, chcąc podziękować i złożyć najlepsze życzenia gospodarzom, postaw na odcienie żółtego, symbolizują one szczęście, radość i pogodne myśli, dodatkowo kojarzą się również z wiosenną aurą i słońcem, coraz częściej pojawiającym się na niebie. Nie ma chyba osoby, która na rzucone hasło ,,wiosenny kwiat" nie pomyślałaby o żonkilach. Delikatne, słoneczne płatki są symbolem pamięci i nadziei, ponieważ są dostępne przez bardzo krótki czas, właśnie teraz jest najlepszy moment by się nimi cieszyć. Wszystkie propozycje kwiatowych bukietów, nie tylko sprawią radość rodzinie i przyjaciołom, ale także będą stanowiły piękną ozdobę stołu przy którym wspólnie zasiądziecie. Kwiatowy prezent wielkanocny to także doskonały pomysł na obdarowanie osób bliskich, z którymi nie możesz zobaczyć się w trakcie świąt. Kolorowy, pachnący bukiet dostarczony do rąk babci czy cioci z pewnością wywoła szeroki uśmiech na ich twarzach.
Kwiatowe ozdoby wielkanocne
Chcąc postawić na coś innego niż bukiet, możesz wybrać kwiatowy stroik.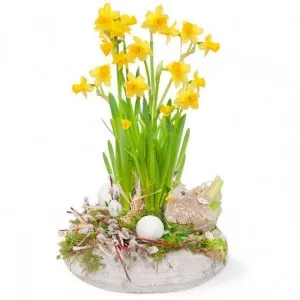 Złożony z szafirków czy żonkili i przyozdobiony wielkanocnymi elementami pięknie udekoruje stół. Ponadto jeżeli uczestniczysz w składkowym śniadaniu czy obiedzie, będzie to doskonały pomysł na dodanie od siebie czegoś ekstra. Oprócz stroików, dostępne są również okazałe wiklinowe kosze i rośliny doniczkowe, które nie tylko upiększą jadalnię, ale także zostaną z gospodarzami na dłużej - będą przypominać im o gościach oraz miło spędzonym czasie. Dodatkowo, do tego typu kompozycji często dołączane są wielkanocne ciasta, jak babki piaskowe czy mazurki, zatem kupując wybrany stroik czy kosz, oprócz kwiatów, darujesz również deser, który możecie wspólnie zjeść zaraz po uroczystym posiłku.
Bukiety, kwiatowe wielkanocne prezenty, stroiki i kosze z pewnością umilą Tobie i Twoim najbliższym świętowanie tego wyjątkowego czasu. Pamiętaj jednak, że spędzanie miłych chwil z rodziną i przyjaciółmi powinno być najważniejsze podczas celebrowania świąt Wielkiej Nocy.