Ostatnimi czasy modne stało się zastępowanie bukietów innymi dodatkami do prezentów bądź kompozycjami składającymi się z osiemnastu elementów. Wielu jubilatów coraz częściej oprócz kwiatów, otrzymuje również inne dodatki do prezentów np. kupon lotto. Czy tradycja ta ma szansę zagościć w naszej kulturze na dłużej?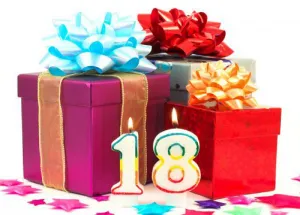 Zwykle jest tak, że dodatkowy upominek jak np. wspomniany kupon wychodzi z inicjatywy samego jubilata, nie zaś gości. Trudno jednoznacznie określić, co jest przyczyną faktu, że wielu jubilatów coraz częściej prosi o prezenty w tej postaci, odchodząc poniekąd od otrzymywania barwnych kompozycji złożonych z najrozmaitszych gatunków kwiatów. Być może jest to obawa przed bałaganem, jaki może powstać na skutek nagromadzenia sporej ilości kwiatów w domu i związane z tym obowiązki, jak np. zmiana wody w wazonach. Często wychodzą również z założenia, że wolą otrzymać upominek, którym będą mogli nacieszyć o wiele dłużej niż tydzień. Być może jubilaci po prostu mają nadzieję na wygranie fortuny dzięki otrzymanym kuponom totolotka?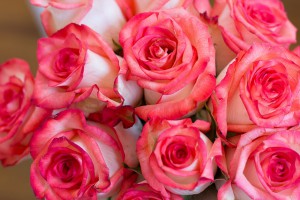 Wielu gości pomimo zakupu dodatku, jaki zażyczyła sobie osoba świętująca swoje osiemnaste urodziny, nie odchodzi od podarowania małego bukietu czy jednego symbolicznego kwiatka. Wręczanie kwiatów w naszej kulturze ma bardzo długą tradycję. Osoby dorosłe nadal uważają, iż pójście na przyjęcie jubileuszowe bez kwiatów jest ogromnym nietaktem. Dodatkowo przyjście na osiemnastkę z samą kopertą, przyczynia się do tego, że można poczuć się niezręcznie, wręczając tak "drobny" prezent.
Coraz częściej osoby udające się na osiemnastkę poszukują również bukietów urozmaiconych osiemnastoma elementami. W kompozycji składającej się z takich dodatków nadal jednak znaleźć powinny się żywe kwiaty. Same dodatki nie stworzą efektownego bukietu, dlatego decydując się na wybór lizaków, banknotów czy innych suplementów, warto najpierw zastanowić się nad samą florystyką, by następnie móc ją uzupełnić o oryginalne gadżety.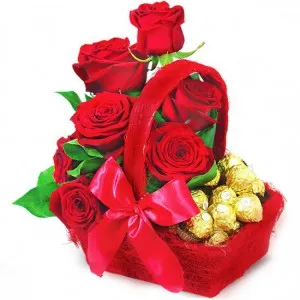 Okres letni to dobra okazja, by zaskoczyć jubilata niezapominanym bukietem. Jest to sezon, w którym dostępnych jest wiele gatunków kwiatów, a każdy z nich cechuje się swoim indywidualnym znaczeniem. Ponadto podczas wakacji wielu zaproszonym gościom zdarza się, że nie mogą wziąć udziału w przyjęciu. W takiej sytuacji nie można zapomnieć o jubilacie, zwłaszcza, jeśli wcześniej wręczył on zaproszenie. Doskonałą okazją do złożenia życzeń i okazania pamięci, jest wysłanie prezentu i wyjątkowego bukietu skomponowanego z żywych kwiatów specjalnie z myślą o jubilacie.
Każdy lubi otrzymywać żywe kwiaty, są one wyrazem prawdziwych i szczerych uczuć - nie tylko miłości, ale także przyjaźni, pamięci i szacunku. Dlatego nic nie jest w stanie zastąpić ich wyjątkowości. Nawet w przypadku dołączenia do bukietu osiemnastu symbolicznych dodatków, to jednak kwiaty pełnią w takiej kompozycji największą rolę. Jeszcze bardziej cieszą, gdy jest ona nadzwyczajna oraz niepowtarzalna, a ich adresat nie jest świadom czekającej go niespodzianki.