Pewnie większość osób jeszcze nie przywykła do konieczności zmiany zapisu daty, podczas gdy pozostali zaczynają swój coroczny research trendów obowiązujących w nowym roku. Doceniane osoby ze świata florystyki przedstawiły co będzie modne w świecie kwiatów, skupiając się przede wszystkim na ślubnych propozycjach.
Magia kolorów
Podstawowym wyznacznikiem jest zmiana podejścia do estetyki całej uroczystości. Floryści podpowiadają, że w tym roku powinno się zapomnieć o kolorach bazowych i dodatkach. Jedyna zasada kolorystyczna to… brak zasad! :) Poleca się łączenie rozmaitych kolorów w bukietach ślubnych, kościele i na sali weselnej. W tym zakresie panuje całkowita dowolność.
Kolor w stylu…
Jeśli już mowa o kolorystyce to warto nadmienić, że mimo całkowitej dowolności, trendsetterzy podpowiadają jakie połączenia najlepiej oddadzą charakter stylu, w którym zaplanowano całą uroczystość. Dla przykładu ceremonie w stylu vintage mogą zdobić kompozycje łączące biel, zieleń, beż, brzoskwinię czy przybrudzone odcienie niebieskiego. Świetnie sprawdzą się w niej także pudrowe róże lub welurowe szarości połączone ze złotem. Wszystko to może stanowić niezwykle klimatyczną całość tworzoną przez estetycznie skomponowane bukiety kwiatowe.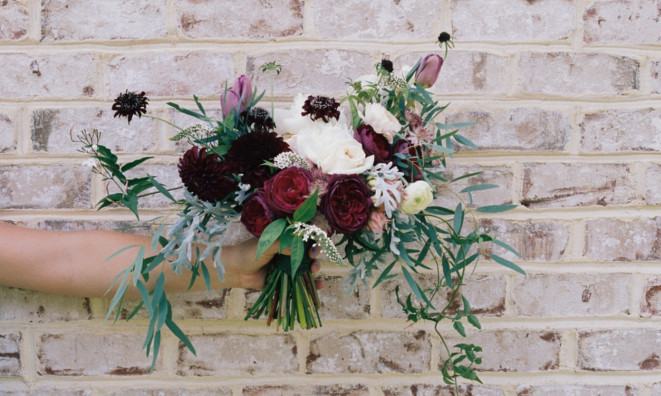 Bliżej natury
Panny Młode chętnie zastąpią welony i fascynatory wiankami z naturalnych kwiatów. Tworzy się je na bazie drutu florystycznego z wykorzystaniem dowolnych ozdób. Mogą być bardziej okazałe poprzez użycie roślin o dużych kwiatostanach lub stanowić delikatny dodatek do całej stylizacji, wykorzystujący jedynie gipsówkę. Ukłonem w stronę natury będzie także skorzystanie z gałęzi bukszpanu, które utworzą piękną koronę rozświetlającą twarz każdej Panny Młodej. Wszystko zależy od upodobań przyszłej mężatki i typu jej urody - więcej na temat komponowania wianków pisaliśmy w tym artykule.
Kształt odchodzi w zapomnienie
Zapewne każda osoba, którą kiedykolwiek zainteresowały okazyjne bukiety kwiatów spotykała się z kompozycjami ułożonymi w bardzo przemyślany sposób. Rośliny tworzące zbitą kulę, czy ułożone piętrowo nie sprawdzą się w tym sezonie. 2017 upłynie pod znakiem kwiatowego chaosu, który będzie wyglądał bardzo efektownie.  Floryści proponują, by tegoroczne kompozycje przypominały te świeżo zebrane na łące. Rozłożyste formy, z których coś opada, a gdzie indziej wystaje, to absolutny hit nadchodzącego roku.
Kwiatowe dekoracje
Poza dodatkami wykorzystywanymi w stylizacjach ślubnych niezwykle ważne będą kwiaty stanowiące ozdobę sal weselnych czy miejsc odbywania się ceremonii. Prócz stołowych kompozycji, do których w tym roku będzie się przywiązywać szczególną wagę, uznanie zdobędą także inne formy ozdób. Przepięknie opadające girlandy są propozycją godną wykorzystania na własnej uroczystości. Podobnie jest z kwiatowymi żyrandolami, które mają barwnie zwisać z sufitów. Dzięki temu ceremonia zyska wyjątkową oprawę i oryginalność zapamiętaną przez Parę Młodą i zaproszonych gości.
2017 rok przynosi wiele odmiennych podejść do jednego tematu: kwiatów. Planując uroczystości - nie tylko weselne - warto skorzystać ze wskazówek zaproponowanych przez międzynarodowej sławy florystów, by nadać swojej uroczystości światowego formatu.