Coraz bliżej Dzień Kobiet - wyjątkowe święto wszystkich Pań. Oczywiście nasze ukochane kobiety zasługują na to, by otrzymywać prezenty każdego dnia, bez okazji, ale 8 marca nic nie ucieszy ich bardziej niż piękne kwiaty. Warto zatem zastanowić się nad znaczeniem tego święta i symboliką podarunków, które zamierzamy wybrać.
Historia Dnia Kobiet
Na początek przerzućmy karty historii i cofnijmy się aż do czasów starożytnych. Bowiem już wtedy obchodzono coś, co można nazwać świętem kobiet. W Rzymie były to Matronalia, które przypadały 1 marca, święto to było powiązane z kultem kobiecej płodności, podczas którego mężowie obdarowywali żony prezentami i poświęcali im czas. Tego dnia nawet niewolnice dostawały prezenty od swoich pań i panów oraz pozwolenie na odpoczynek.. Dużo później, bo 8 marca 1908 roku w Nowym Jorku, kilkanaście tysięcy kobiet pracujących w fabryce zaczęło strajk, domagając się godnych warunków pracy oraz praw wyborczych. Już 28 lutego 1909 roku odbyły się pierwsze obchody Dnia Kobiet w USA - miały one na celu upamiętnić odwagę strajkujących. Z kolei w 1965 roku, 8 marca stał się dniem kobiet w ZSRR. Do dziś jest to jedno z najpopularniejszych świąt w Rosji. Jakiś czas później stało się popularne także w Polsce. Niektóre z pań zapewne z uśmiechem wspominają czasy PRL-u, kiedy to każda z nich otrzymywała w zakładzie pracy drobny upominek - rajstopy, kawę, mydełko i obowiązkowy kwiat - tulipan. Dziś Święto Kobiet jest przyjmowane z sympatią. Dzieci w przedszkolach robią laurki dla swoich mam, sióstr i babć, a mężczyźni gotują obiady i przynoszą kwiaty. Do bohaterskich czynów kobiet sprzed ponad 100 lat nawiązuje coroczna Manifa, podczas której  kobiety krocząc ulicami, przypominają o swych prawach.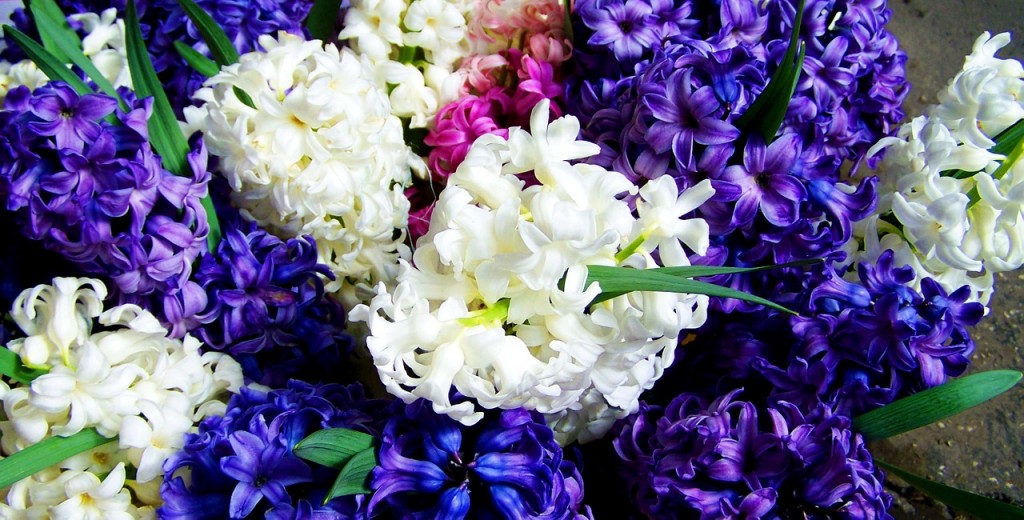 Symbolika kwiatów
Myśląc o wyjątkowej kobiecie, której zamierzamy podarować kwiaty - żonie, dziewczynie, mamie, babci czy siostrze, musimy zastanowić się nad wyborem odpowiednich kwiatów. Klasyką są czerwone róże - symbolizują one wielką i gorącą miłość, zatem kobieta obdarowana bukietem tych kwiatów będzie czuć się wyjątkowo. Połączenie kolorowych róż to powiedzenie: kocham, bardzo mi się podobasz, chcę podarować Tobie coś eleganckiego. Kompozycja z liliami to pokazanie, że życzy się osobie obdarowanej wszystkiego, co najlepsze i przypomnienie, iż może na nas liczyć w każdej sytuacji. Kolorowe hiacynty oprócz tego, że czarują swą wyrazistością, są wyrazem sympatii. Ponadto biel oznacza wyraz szacunku - jest to zatem idealny bukiet dla mamy lub babci. Kompozycja z bladoróżowych róż mówi sama za siebie - jest delikatna, niewinna i romantyczna. Szczególnie sprawdzi się jako podarunek dla młodej kobiety. Natomiast wyrazisty bukiet z czerwonych kwiatów to symbol głębi uczuć i znak, że dobrze czujemy się w towarzystwie osoby obdarowanej. Idealnie będzie pasował do mamy, siostry lub przyjaciółki.
Kwiatowe trendy
Jeśli szukamy prezentu niebanalnego, oryginalnego, możemy pomyśleć o bukiecie spersonalizowanym, który zawiera nie tylko piękne czerwone róże, ale też słodki upominek - to aż dwie przyjemności w jednym prezencie. Duże wrażenie zrobi też nieoczywisty bukiet w… koszyku. Obdarowana osoba będzie mieć pewność, że chcieliśmy wręczyć jej coś naprawdę wyjątkowego. Kolejnym pomysłem, który wywoła jeszcze szerszy uśmiech na twarzy ukochanej kobiety jest dołączenie do bukietu bileciku. Można tam umieścić życzenia, podpisać się lub wyrazić najszczersze uczucia i komplementy.
W tym szczególnym dniu powinniśmy pokazać wyjątkowym kobietom, że są dla nas ważne. Jeżeli dodamy do tego element zaskoczenia - zupełnie niespodziewaną wizytę kuriera z naręczem kwiatów - z całą pewnością będą wniebowzięte. W końcu każdy lubi niespodzianki, zwłaszcza takie miłe.