Wszystkich Świętych jest czasem zadumy i pamięci o bliskich, którzy już odeszli. Aby odpowiednio uczcić ten moment, odwiedza się ich groby, przynosząc wyjątkowe kompozycje kwiatowe.
Kwiaty na cmentarz
Uroczystość Wszystkich Świętych obchodzona jest Kościele rzymskokatolickim w celu uczczenia pamięci wszystkich chrześcijan, którzy osiągnęli stan zbawienia. 1 listopada spędzamy w gronie najbliższej rodziny i przyjaciół. Czas ten kojarzy jest przede wszystkim z modlitwą i pamięcią o tych, co odeszli. Wielu z Was zapewne zastanawia się, jakie kwiaty pomogą odpowiednio uczcić pamięć o bliskim zmarłym. Przede wszystkim warto zastanowić się, jakie kwiaty lubiła ta osoba i takie też zakupić. W innym przypadku zaleca się wybieranie stosownych na tę okazję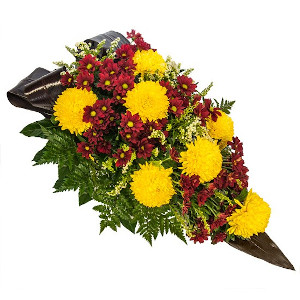 gatunków, które pomogą oddać hołd zmarłym. Wiązanka na Wszystkich Świętych skomponowana jest przede wszystkim z chryzantem żółtych, które są symbolem święta zmarłych. Dodatkowo ich ciepły kolor doskonale komponuje się ze spadającymi, jesiennymi liśćmi. Resztę wiązanki stanowią organza i zieleń dekoracyjna. Do kompozycji kwiatowej można dołączyć upominek – znicz, którego zapalenie na grobie jest symbolem światła i pamięci, lub wstążkę, która uczyni podarunek jeszcze bardziej wyjątkowym. Całkiem odmienną propozycją jest Bukiet Źródło, który tworzy biało-fioletową symfonię. Kwiaty bardzo często mówią o tym, czego my, ludzie nie jesteśmy w stanie opisać i przekazać. Fioletowe astry symbolizują żałobę i wierność osobie, która odeszła. Kolor ten jest barwą liturgiczną, a szaty w tym odcieniu zakładają księża w okresie adwentu, wielkiego postu czy mszy żałobnej. Z kolei białe margaretki oznaczają niewinność, wierność i pokorę. Kolor biały także jest barwą liturgiczną, a jego obecność można zauważyć przede wszystkim w okresie Bożego Narodzenia, Zmartwychwstania, a także Wszystkich Świętych. Wiązanki złożone w miejscu pochówku bliskiej osoby z pewnością oddadzą jej należyty szacunek i pokażą, że pamięć o niej nie przemija.
Jeśli nie możesz pojawić się na cmentarzu...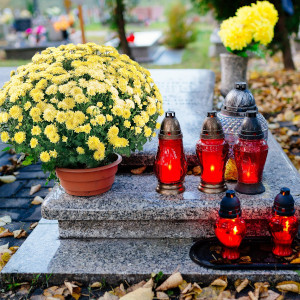 Niestety, ale zdarzają się sytuacje, kiedy to z niezależnych przyczyn nie jesteśmy w stanie osobiście pojawić się na cmentarzu u bliskiej osoby. Oferta opieki nad grobami to możliwość dla tych, którzy są daleko, by zgodnie z tradycją należycie uczcić pamięć o zmarłej osobie. Oferta ta obejmuje szereg usług takich jak: usunięcie starych zniczy i zapalenie dwóch nowych, uprzątnięcie całego nagrobka, umycie nagrobka, a także postawienie pięknej donicy z chryzantemami. Aby mieć pewność, że nasza opieka nad grobem Twojego bliskiego przebiegła pomyślnie, po wszystkim zrobimy zdjęcie i wyślemy Ci je, abyś miał możliwość weryfikacji jakości naszych usług.
Odpowiednie zadbanie o miejsce pochówku zmarłego jest bardzo ważne. Ozdobienie grobu wiązankami z pięknymi chryzantemami z pewnością będzie nie tylko dobrze wyglądać, ale pozwoli także wyrazić uczucia, które trudno jest wypowiedzieć.